Sudan
28-05-2018 | di COOPI
Safe water supply is critical for refugees in North Darfur
Atong Dut is a 30 years old South Sudanese woman living as a refugee in the Abu Jara village, located in Al Lait, North Darfur. She is living with the members of her family, 3 daughters and 2 sons.
The main source of income for her family is a meager salary she receives working as a contracted farmer in the Sudanese host communities' peanut farm. Atong Dut and her kids are living in a temporary shelter made from the plastic sheeting provided by the UNHCR. As highlighted in her words, a key problem of the South Sudanese refugees and of all the residents of Abu Jarra village was the access to safe water.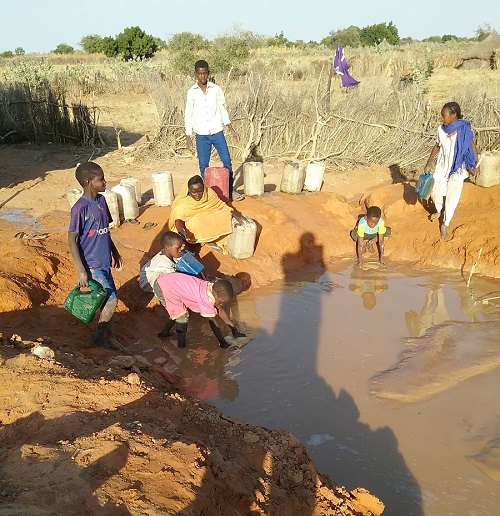 ?
Since their arrival, they had all been suffering from a shortage of drinking water. The boreholes- where all the people of Abu Jarra collect water- had been damaged since 2010, which forced people to travel an average of 3 to 4 hours to fetch water.Atong Dut also mentioned that in some occasions these sources of water were very crowded and queueing time was over 3 hours. Due to these problems, the average consumption of water was only 7-8 liters per day; as a direct consequence of such lack, her children often got sick from acute diarrhea and skin diseases, as bathing and personal hygiene were serious problems.
Through the funding from SHF (Sudan Humanitarian Fund) and ECHO (the EU Humanitarian Aid), COOPI was able to improve her life and the ones of over 10,000 other refugees living in Al Lait. Since January 2018, the situation has completely changed and the water shortage issue has been solved with thedrilling of two new boreholes and piping works, so that water can be fetched close to the refugees' settlements.
Currently, Atong Dut and her family have a source available only 10 minute away from their house and the price of water has become very cheap, with no queueing time. Their daily consumption has increased to 13-14 liters per person, drastically reducing the spreading of waterborne diseases, amongst which the potential threat of cholera.
In addition to the provision of water supply, Atong Dut and over 10,000 refugees from South Sudan received a provision of soap and jerrycans from COOPI through the funding from ECHO. With the support of a hygiene-related awareness campaign being conducted since January 2018, water-related diseases have been significantly reduced among people, especially children and the elderly. Additionally, the money used to purchase water is now saved and used for other basic needs of the family, including food, clothing and medicines.
As Atong Dut reported to the COOPI team in Al Lait, she is «very grateful to COOPI in North Darfur for saving our lives». The humanitarian support provided to increase access to safe water facilities is a remarkable achievement, which will be fostered further as COOPI, ECHO and SHF continue helping people in need and the most vulnerable families in Al Lait.