Somalia
15-03-2021 | di COOPI
Somalia. Mrs. Isho Ibrahim Hassan can now save money for her and her family
The novel coronavirus has woven itself into the daily lives of Somalis' pocketbooks, hitting hard and affecting small businesses, causing market disruptions and prices fluctuation. Commodities such as foodstuffs, medication, and even COVID-19 protective gears became seemingly expensive due to increased demand and uncertainty. The pandemic, coupled with the high poverty rates, has limited purchasing power of households and exacerbated internally displaced people (IDP) living conditions.
Mrs. Isho Ibrahim Hassan, like many others living around Baidoa district, Bay region of Somalia, saw her sources of income negatively impacted by the pandemic. The menial job opportunities that she depended on became affected by the day, as a result of COVID-19. At 42 years of age, she never imagined she would be forced by situation to one day see herself and her family living in an IDP settlement without a steady income to fend for her family of 8 members including six children.
COOPI, under the project titled "Multi-sectoral emergency intervention in response to the humanitarian crisis in Somalia" - funded by AICS, intervened in Ceel-Jaale IDP Camp in Baidoa district through Unconditional Cash Transfers and Emergency Water response aimed at saving lives of the affected IDP communities and reducing the risk of famine. Mrs. Isho was among 500 beneficiaries selected under the project through community-based targeting to benefit from cash amount of $ 60 for three consecutive months, as well as two months of emergency safe drinking water distribution of 40 liters/day. She, just like other beneficiaries, has praised the impact of this intervention, stating that it has had a profound impact on her family.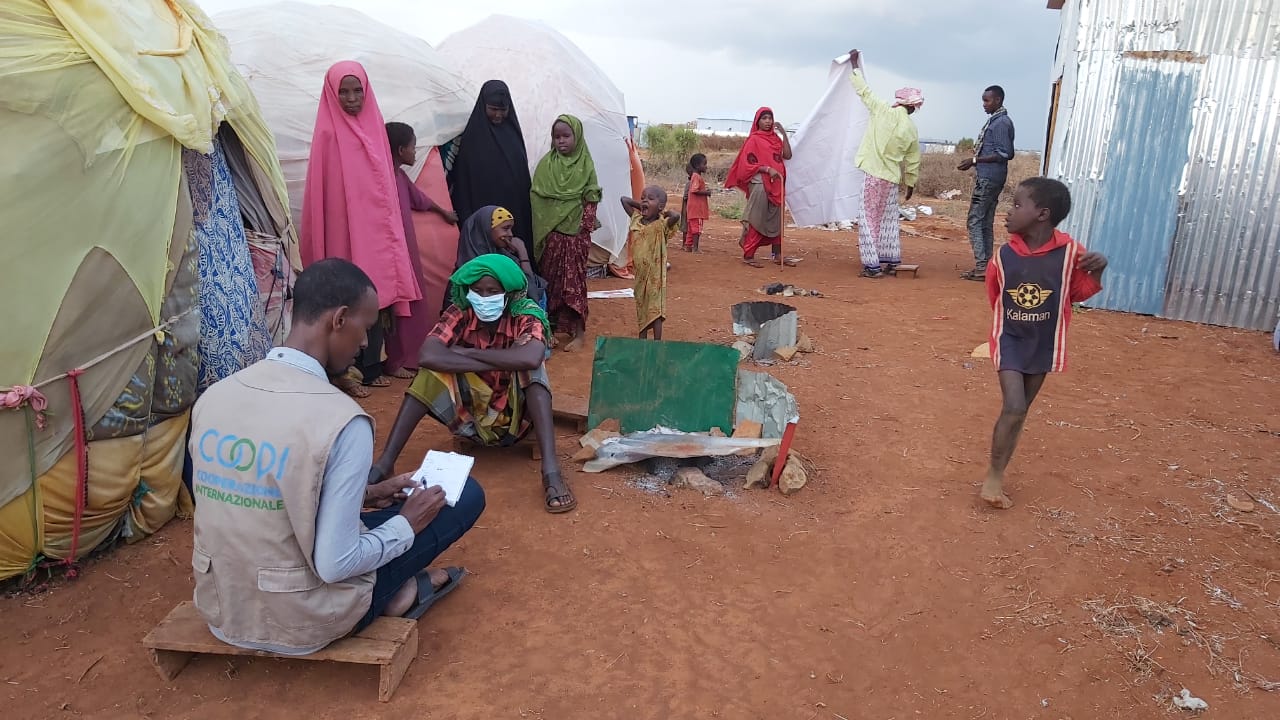 "During this difficult period of COVID-19 virus, in addition to the prevailing drought, having access to food and water is a huge blessing and the cash transfers have made that possible for us. Given that large portion of the household budget was spent on purchase of food and water, the provision of cash and water support has enabled me to cater food for my family and spend on other needs such as medication, clothing and madrassa and also saving few amount to revive business. I have joined a saving group to enhance my access to credit and have so far saved $20 which I will have access to in case of emergencies. I can proudly state that I am debt-free today", she says.
Mrs. Isho believes that cash assistance and savings have also helped empower women in her community by enabling them to save more cash while improving their daily ordeals. Previously, women in this community had limited decision-making power on household expenditure, but now they play more active in making decisions for their households, thus increasing the potentiality for long-term sustainable improvements in their financial position and household well-being.