Somalia
04-05-2020 | di COOPI
Somalia. Poultry farming improving livelihoods in rural areas
Sahra Adan Axmed, aged 50, is a mother of 9 (6 males and 3 females). She lives in Beertir, an agro-pastoral village situated 5km of Dollow (one of the major cities) and home to around 120 families. She is a member of the poultry group established in her village with the guidance of COOPI Livestock Officer under the project "Enhancing resilience in Somalia", financed by the Australia Department for Foreign Assistance and Trade and implemented by COOPI through the Somali Resilience Programme (SomReP).
Prior to the intervention, she and her husband owned goats which they mainly depended on for milk and meat and few chickens whose produce was mostly for household consumption. She would rear some for sale in the market in Dollow. Their average monthly income of 90$ was not adequate to cater for their multiple needs. Thereby, low food access and high debts levels could occasionally occur. A painful divorce further exacerbated her situation and left her as the sole bread winner of the household. Although the husband supported children's upkeep, the money sent were not enough for their needs.
In 2017, COOPI built a poultry farm in Beertir village. She took part in poultry training. Moreover, having expressed her interest in savings and borrowing loans, she was trained on Village Savings and Loans Association's (VSLA) methodology and she joined the VSLA group in her village. This gave her access to loans that she used to increase her investment in the poultry farm and to purchase feeds for the chickens.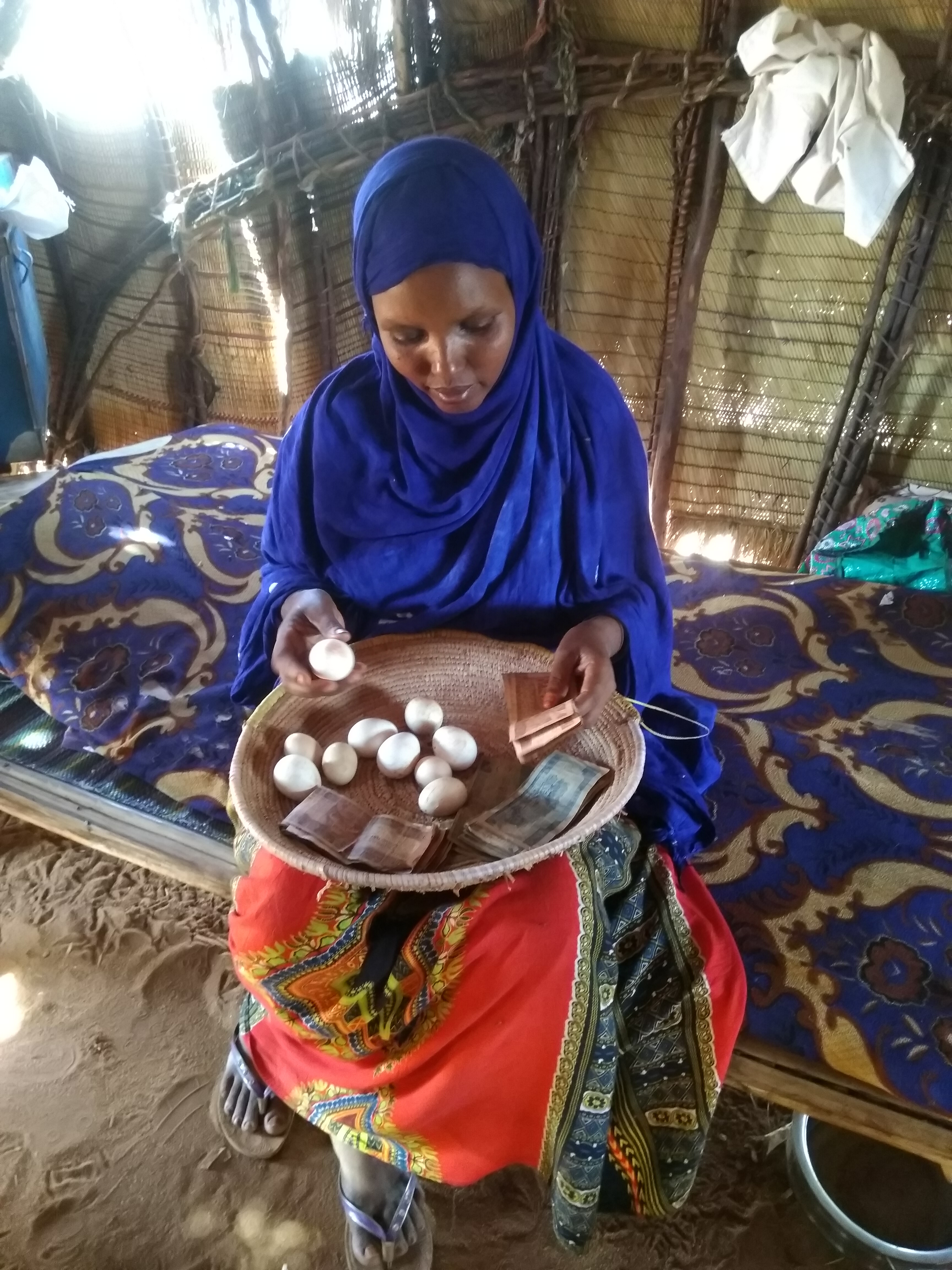 Sahra and her products
She says: "The training helped increase my knowledge on poultry farming. I owned chickens years ago from which we consumed meat and eggs. My focus, however, was the goats, as at the time I believed they were more profitable. I never knew the value of poultry farming. Since I wanted to chase poverty, no matter the cost, when COOPI came to our village, I decided to go back to poultry farming, and that is one of the best decisions I have ever made. The poultry farm has been very instrumental in providing a conducive environment for rearing the chickens. I started off with two cocks and two hens, which have now multiplied to almost 40 in the farm. This has been a very profitable investment".
She adds: "I sell the eggs in the market in Dollow at $0.25 per egg and can earn $2.5 from each chicken I sell. In a month, I make between $350-$400 after all farming costs. I save some of the eggs for household consumption and this has improved our protein intake. The profits have enabled me to afford fees for my children and has enabled to pay my debts. I have also been able to purchase a sewing machine and opened up a tailoring shop in Qansaxley IDP camp, which is just outside Dollow town. I am hoping it brings me more financial relief and freedom."
Sahra concludes expressing her delight with the outcome of the intervention and how far she has come since she first started. "Since poultry farming has been more profitable than the goats for me, I have decided to fully focus my attention on it. Moreover, the COOPI Livestock Officer has been very helpful with his regular check-ups on the farm and state of health and treatment of the chickens. He has helped a great deal with the sustainability of this farm. I am greatly indebted to COOPI, SOMREP and DFAT for the continued assistance" a visibly happy Sahra appreciates.