Somalia
08-05-2020 | di COOPI
Somalia. Shallow well building resilience among agropastoral families
Magalo Muhumed Sufi, aged 50 and father of 8 children (7 males and 1 female), lives in Oda village situated along the river Dawa, in Gedo Region, Somalia. He is one of the beneficiaries of the project "Enhancing resilience in Somalia" financed by the Australia Department for Foreign Assistance and Trade and implemented by COOPI since June 2019 through the Somali Resilience Programme (SomRep).
Situated in Belet-Hawa district, Oda Village is home to hundreds of agropastoral families who largely depend on agriculture for their livelihoods. However, since the village depends solely on the river and rain, communities are vulnerable especially during the drought season.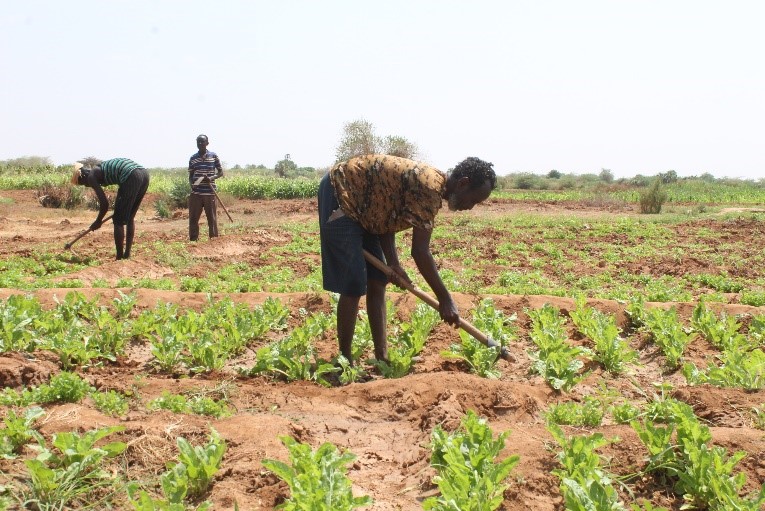 Magalo working in the fields
Magalo Muhumed Sufi and his siblings inherited 5 hectares of land from their fathers. He remembers that he initially struggled to earn a living from the farm due to low yields. One of the major factors which affected his produce was the lack of constant water supply, that allowed him planting only during rainy season. Therefore, he was obliged to incur debts and to reduce the number of meals and food varieties. Moreover, a multitude of problems such as the lack of appropriate farming tools and skills, fuel shortage, pest and diseases worsened the situation.
He says: "Before COOPI came to our village my production was only 250 kg of maize, 120 kg of cow peas and 70 kg of tomatoes, which only brought in an income of $ 171 per harvest. This was not enough to cater for the array of needs of my two households. My destitution occasionally compelled me to borrow loans which became difficult to repay with the households needs outweighing the income I was making."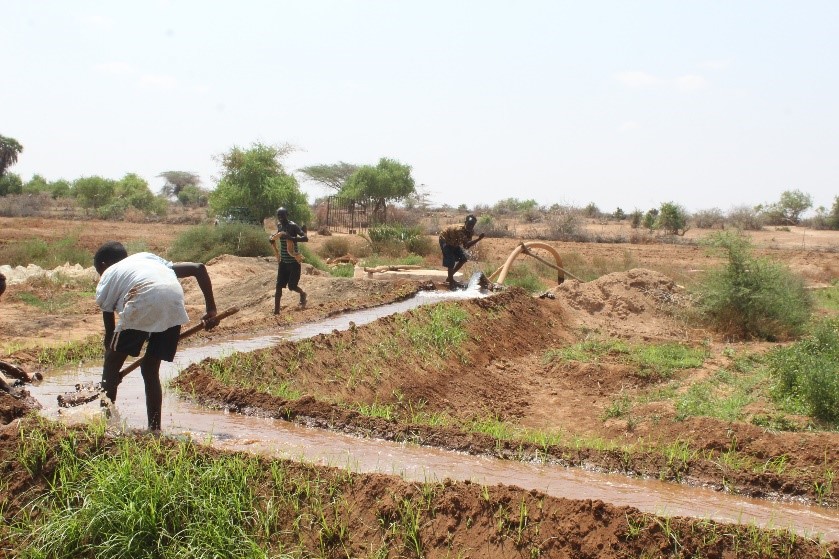 Water canals in the fields
In November 2018, COOPI built a shallow well and a pump to ease drawing of underground water for farming. It immediately brought the much anticipated and long-awaited relief for farmers in Oda village. Magalo Muhumed Sufi benefitted from the intervention as well. Moreover, he attended trainings on Good Agriculture Practices (GAP) and Village Savings and Loans Associations (VSLA). Both increased his knowledge and skills. In addition, he was able to borrow a loan to purchase seeds for his farm.
He explains: "The shallow well has been nothing short of a blessing since it was constructed. The farm now has a constant supply of water even during the dry seasons, which was a pipe dream before. I have lost many months of farm unproductivity and I intend to make up for all those years by giving back to my family and the community. The GAP training has helped increase my farming skills and enabled me to diversify from only maize, cowpeas and tomatoes that I used to plant and also invest in other cash crops such as chilli, green pepper, spinach, onions, coriander, as well as fruits such as banana, lemon, guava and mango, which I expect to harvest soon".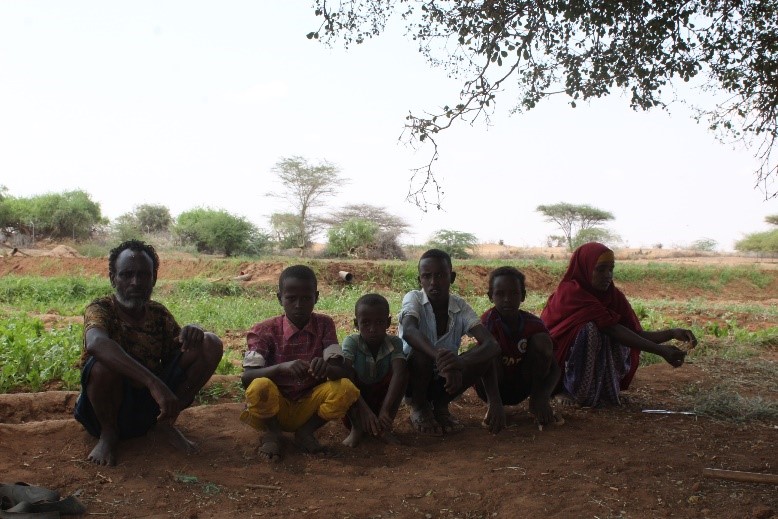 Magalo's family
He adds: "I am now optimistic about the future as I believe this shallow well will increase the production of my farm and provide water security for us in the event of disaster such as drought. I plan to expand the farmland and to connect pipes for provision of water to those far parts after the expansion. My crops are growing well, and I expect to make a good income in the coming weeks after harvest. This will help me settle my debts and provide a balanced diet for my family".
"Thanks to DFAT, SOMREP and COOPI for the timely intervention".