Bolivia
03-03-2021 | di COOPI
Bolivia. COOPI organizes the first training course in the country on Construction and Demolition Waste Management
The project LaPazRecicla, funded by the Italian Agency for Development Cooperation and implemented by COOPI – Cooperazione Internazionale, organized the first course on "Integrated management of construction and demolition waste with attention to circularity" with the aim of training municipal and private technicians on this issue, which is being addressed for the first time in Bolivia.
The activity focused on showing the proper management of these wastes for their treatment, providing information on current legislation and tools for analysis, control and planning of work for their classification and recycling. The purpose of this extensive training was to strengthen the technical knowledge of the operators before the start-up of the first debris treatment plant in Bolivia, which is becoming operational thanks to the intervention of the LaPazRecicla project.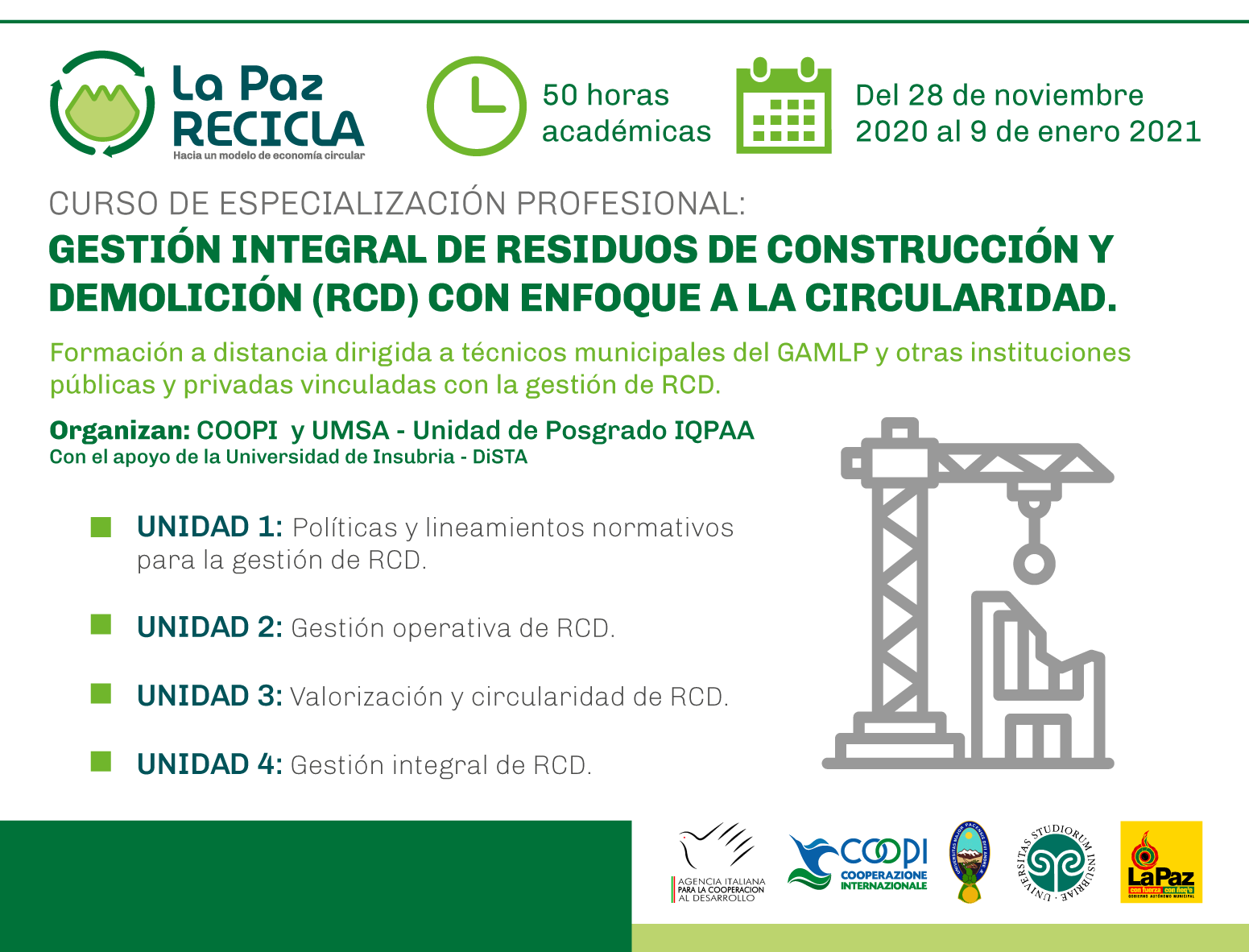 The online course lasted 4 weeks between December and January and had the participation of highly recognized teachers not only from Bolivia, but also from Peru and Argentina, which allowed an exchange of ideas and knowledge of different Latin American experiences. The teachers were supported by researchers and academics who were partners in the project and contributed to the creation of an excellent learning environment by overcoming all the barriers that COVID-19 constantly poses to us, seeing it as an opportunity for teachers and students from other places to participate.
In total, 52 people from the University, the autonomous municipal government of La Paz, the autonomous governments of Villazón, Sacaba, Viacha, the municipal sewerage company of Santa Cruz, and the Bolivian Highway Administration were trained. The agenda was divided into four modules: the first on policies and regulatory guidelines, the second on the operational management of Construction and Demolition Waste (CDW), a third on the recovery of this type of waste and circularity strategies, and finally a general analysis of the CDW General Management Plan.
The rich exchange between different points in Bolivia and other countries in the Americas was useful not only to improve the technique on sustainable recycling practices for this type of waste, but also to connect actors from different sectors, including academia, public and private actors.