30-10-2019 | di COOPI
Brussels. A multistakeholders and coordinated response to the Venezuelan crisis
The International Solidarity Conference on the Venezuelan Refugee and Migrant Crisis held in Brussels on 28-29 October 2019 was summoned by the European Union, the UN Refugee Agency (UNHCR) and the International Organization for Migration (IOM), to turn the spotlight on the largest mass exodus in Latin America modern history.
Since 2015, more than 4.5 million people have left Venezuela, converging in neighbouring countries, including Colombia (33.36%), Peru (19.18%) and Ecuador (7.3%). According to the Response Plan for Migrants and Refugees (RMRP), the number of Venezuelan migrants and refugees is expected to increase, reaching almost 6.5 million in 2020. As a result of the severe economic recession, 94% of the Venezuelan population, about 30 million people, are food insecure and 82% of them do not have access to safe water. Health conditions have also reached alarming levels, with a maternal mortality rate of nearly 65%, due to the lack of adequate health facilities and hygiene practices. The school system is also failing, with more than 1 million children forced out of school.
As Federica Mogherini, the outgoing High Representative of the Union for Foreign Affairs and Security Policy and Vice-President of the Commission EU High Representative for Foreign Affairs and Security Policy, stressed, "The Venezuelan crisis and its humanitarian impact need to go back on top of the international agenda. We are here to send a strong message of solidarity to Venezuelans who are suffering a crisis".
Solidarity is a key concept also reiterated by Filippo Grandi, United Nations High Commissioner for Refugees, "which, however, remains an empty word, if we do not substantiate it with material resources". The commitment and adherence of governments and institutional donors to the Venezuelan cause is important in the immediate future, but "we must also think about how to guarantee long-term sustainability at structural and development levels".
António Vitorino, Director General of IOM, also emphasizes "the commitment of the international community to respond together to the Venezuelan crisis, not only from Geneva or Brussels, but directly in the host Latin American countries that are facing it in the first hand".
To respond to the "imminent deterioration of the humanitarian situation in Latin America", as Vitorino has predicted, we need to be prepared. To achieve this, several international NGOs and members of the ICVA (International Council of Voluntary Agencies), including COOPI – Cooperazione Internazionale, have signed a joint statement of commitment to ensure solidarity with displaced Venezuelans, support countries and communities hosting and protecting them.
In the statement, the signatory NGOs urge governments to adopt an open border policy, and improve asylum application systems. To the nearly 1.1 million children forced to leave Venezuela must be guaranteed protection and access to basic services, as well as the right of nationality of origin to prevent statelessness. The international cooperation community will continue to provide food, shelter, education and health services to Venezuelans in transit and host countries, but the host countries must act in a coordinated manner to make documentation requirements more flexible for the Venezuelan population, and efforts should also be made to ensure recognition of educational titles and professional credentials as well as integration into the labour market for Venezuelans abroad.
Finally, the signatory NGOs call on donors and local governments to stop the wave of hatred and xenophobia against Venezuelan migrants and refugees, which only worsens the vulnerability of these people. Host countries should instead promote campaigns of solidarity and peaceful coexistence, recognising migrants as an added value for their country.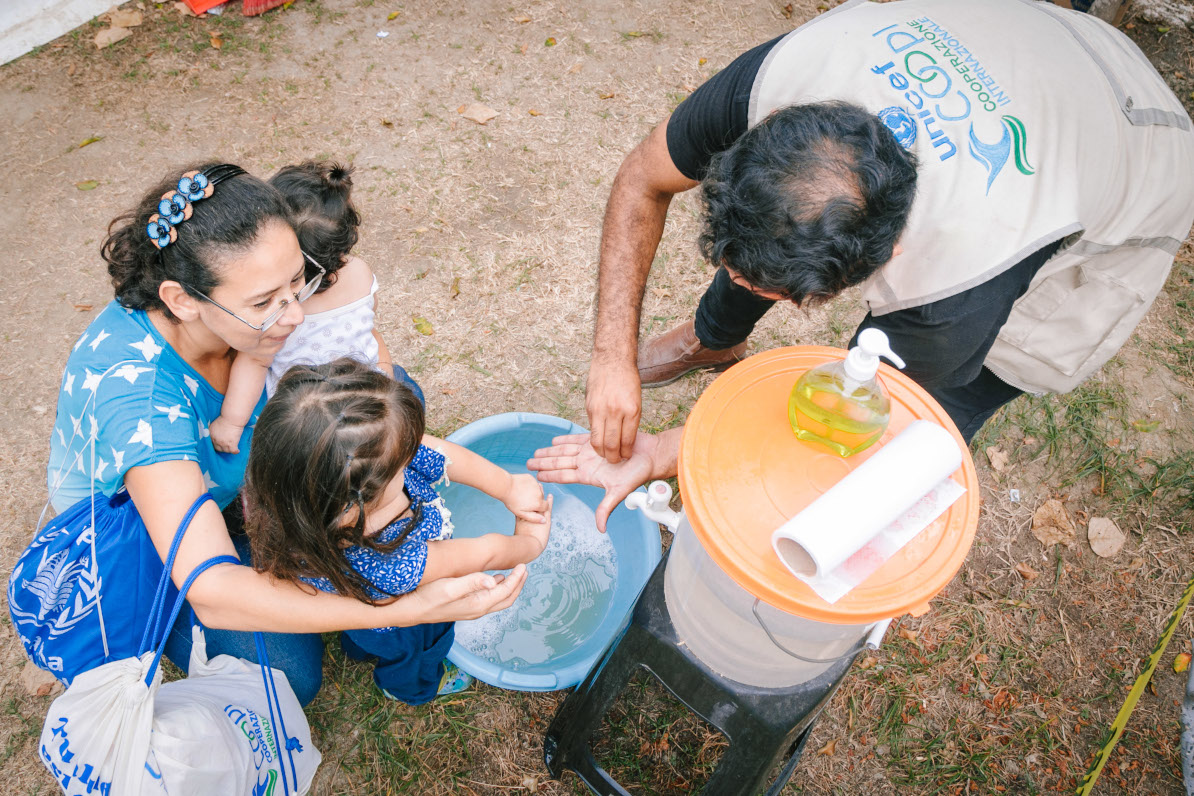 COOPI is one of the signatory NGOs and has been present in Peru since 2000, is strongly engaged in the response to the Venezuelan migration emergency. "We are actively participating in the national response plan, in close collaboration with the regional coordination platform R4V (Response For Venezuela), in order to create an effective and coordinated crisis response network," says Manuel Simoncelli, COOPI Front Desk for Latin America and the Caribbean. "At the bi-national Border Centre in Zarumilla, northern Peru, COOPI has become a reference point in the water and sanitation sector, in collaboration with Unicef. In Tumbes, not far from Zarumilla, from November 2018 to the present day, we have offered an overnight stay to about 5,000 Venezuelans in transit and helped more than 5,000 to reach their final destination, in collaboration with IOM."
COOPI is currently analyzing the situation in Venezuela to start a possible humanitarian project within the country.
During the International Solidarity Conference, members from the third sector, private sector, civil society, international financial institutions, host governments and donors confirmed their international commitment to the Venezuelan migrants and refugees and host countries, shared best practices and results to provide a coordinated regional response and offered more structured technical and financial support in the region.
The next international meeting on the response to the Venezuelan crisis will be held in Bogota, Colombia, in November 2020, where the "Quito Process" - a multilateral initiative of several Latin-American countries that aims to harmonize domestic policies in receiving countries - will continue to strengthen and coordinate the regional response to the mass exodus of the Venezuelan population.
The full joint NGOs statement is available on ICVA website.
Photo credits: Nestor Quiñones Izquierdo