Dem. Rep. of Congo
24-04-2019 | di COOPI
DRC, Pweto: Education saves children from forced recruitment
Since 2016, the conflict between the pygmy Twa and the Bantu population caused the displacement of about 90% of the population of Pweto, in the province of Upper Katanga in the Democratic Republic of Congo.
Thanks to the United Nations Common Humanitarian Fund, we have launched the "Multisectoral emergency support for the child protection during armed conflicts in Pweto territory, Upper Katanga province" project in December 2018, which will end a year later and will provide assistance to 56,831 vulnerable children affected by armed conflict.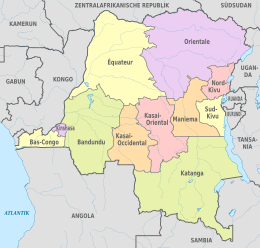 Upper Katanga province, DRC
The project is focused on three main sectors: protection, education in emergency and health. Our aim is to improve the living conditions of the people affected by the crisis, especially the most vulnerable among them, to guarantee them access to basic services, such as schools, Child Friendly Spaces and ensure that fundamental human rights are protected.
Protection
According to the estimates provided by Unicef in 2018, children make up more than 30% of the Twa and Bantu militias. Even though hostilities have now come to an end, only a few have reunited with their families - this points out the growing vulnerability of children, which is also reflected in the increase of about 42% of forced marriages cases.
Our project aims to prevent forced recruitment of children by strengthening community capacity on how to fight gender-based violence, by raising parents' awareness and improving access to quality, inclusive and appropriate education in safe learning environments, which contributes to the psychosocial well-being of children and adolescents.
Education in emergency
As for education, about 57.5% of school-age children did not attend school between 2017 and 2018 and the dropout rate rose to 30%, due to the deteriorating state of the facilities and precarious economic conditions of families, who cannot afford to pay for school fees.
Deprived of education, children and adolescents are even more vulnerable and risk being more easily recruited or exploited in mining quarries.
Training the school authorities, providing materials and recreational kits, planning awareness campaigns on the importance of girls' education and peaceful conflict resolution are some of the key project activities to ensure children's protection.
Our "Multisectoral emergency support for the child protection during armed conflicts in Pweto territory, Upper Katanga province" project will also include the socio-economic reintegration of adolescents - through vocational training activities, boys and girls can try their hand at professional activities such as mechanics, sewing, catering and farming, to build a better future within their community.
During its 40 years of activity in the Democratic Republic of Congo, COOPI has supported and continues to support survivors of gender-based violence, offering specific care and psycho-social support, while adopting a participatory approach, which is the real key element in preventing human rights violations.