Ethiopia
23-12-2020 | di COOPI
Ethiopia. COOPI won the SINCE Programme Overall Best Performance Award
On December 16, 2020, the consortium led by COOPI - Cooperazione Internazionale in Oromia (Ethiopia) was awarded for the best performance among the five consortia in the SINCE "Stemming Irregular migration in Northern and Central Ethiopia" programme.
The programme, funded by the European Union Trust Fund for Africa and managed by the Italian Ministry of Foreign Affairs and International Cooperation through the Embassy of Italy in Addis Ababa, with the support of the Italian Agency for Development Cooperation (AICS), aims to reduce irregular migration from Northern and Central Ethiopia by improving the living conditions of the most vulnerable population, including potential migrants and returnees, with particular attention to youth and women.
The award was presented during an online event attended by representatives of the European Union Delegation to Ethiopia, the Embassy of Italy in Addis Ababa, Ethiopian government stakeholders, SINCE program implementing partners, and private sector representatives.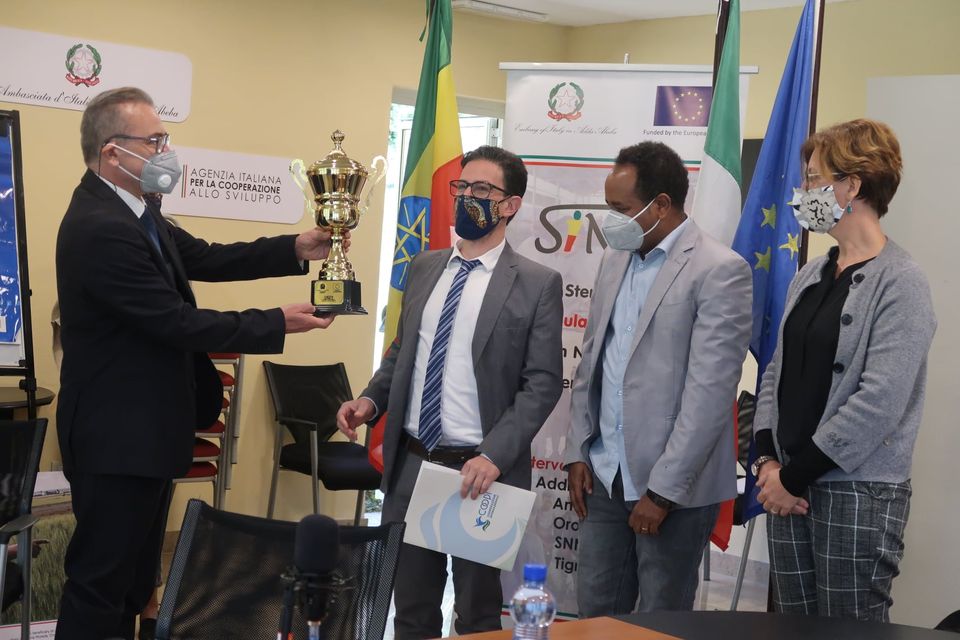 Award presentation at the Italian Embassy in Addis Abeba, Ethiopia.
The event focused on the exchange of experiences and lessons learned on job creation, decent work, public employment service, apprenticeships and public-private partnerships. Criteria for comparison and evaluation were performance against objectives, consortium management, budget management and utilization, stakeholder engagement, inclusion of cross-cutting topics, and visibility and reporting.
The "Stemming Irregular migration in Northern and Central Ethiopia – SINCE" program operated in the textile and apparel, leather and leather products, agribusiness, metallurgy, and construction sectors. It has been implemented over the past three years, from December 2017 to October 2020, by the following consortia:
PIN, in partnership with VIS, CONCERN and CHADET, is implementing activities in Addis Ababa (Lot 1).
Edukans, in partnership with CETU, CIFA, DEC, Hope Enterprises and Kidane Garment, is implementing activities in Amhara (Lot 2).
COOPI, in partnership with Edukans, LVIA, Meki Batu and Sico Mendu cooperatives, is implementing activities in Oromia (Lot 3).
IRC, in partnership with CARE, JeCCDO, Selam Awassa and YME Plc., is implementing activities in SNNPR (Lot 4).
VIS, in partnership with CISP, OXFAM, REST, ECC and Mesfin Industrial Engineering, is implementing activities in Tigray (Lot 5).