Iraq
13-12-2021 | di COOPI
Iraq, teaching in emergencies: The support from AICS and COOPI
In the framework of the project "Back to a safe school - Promoting access to inclusive, safe and quality formal education in Iraq, Al-Shirqat district, Salah ad Din" - AID 12047, funded by the Italian Agency for Development Cooperation (AICS), COOPI – Cooperazione Internazionale is providing trainings activities to teachers in remote areas of Shirqat District, in Iraq, by setting out innovative and alternative means of education.
COOPI, among the actions taken in order to improve the quality of education in the targeted areas, delivered a series of trainings which involved the schools' staff of 9 targeted schools, in collaboration with the local partner Sorouh for Sustainable Development Foundation (SSDF), which is an active organization in the country, with several years of experience in the education sector and certified trainers.
Inside the project, a big space has been given to teachers' role and participation, in order to deliver different kind of trainings. One of the main training packages used is the Teachers in Crisis Context (TiCC), whose focus is providing more and better support to teachers in crisis settings. It was followed by trainings on Non-formal education methods which included tips to manage education activities during COVID-19 pandemic and Psychological First Aid (PFA) to give teachers the tools to recognize the possible children's distress and how to support them in the best way, on educational and emotional point of view.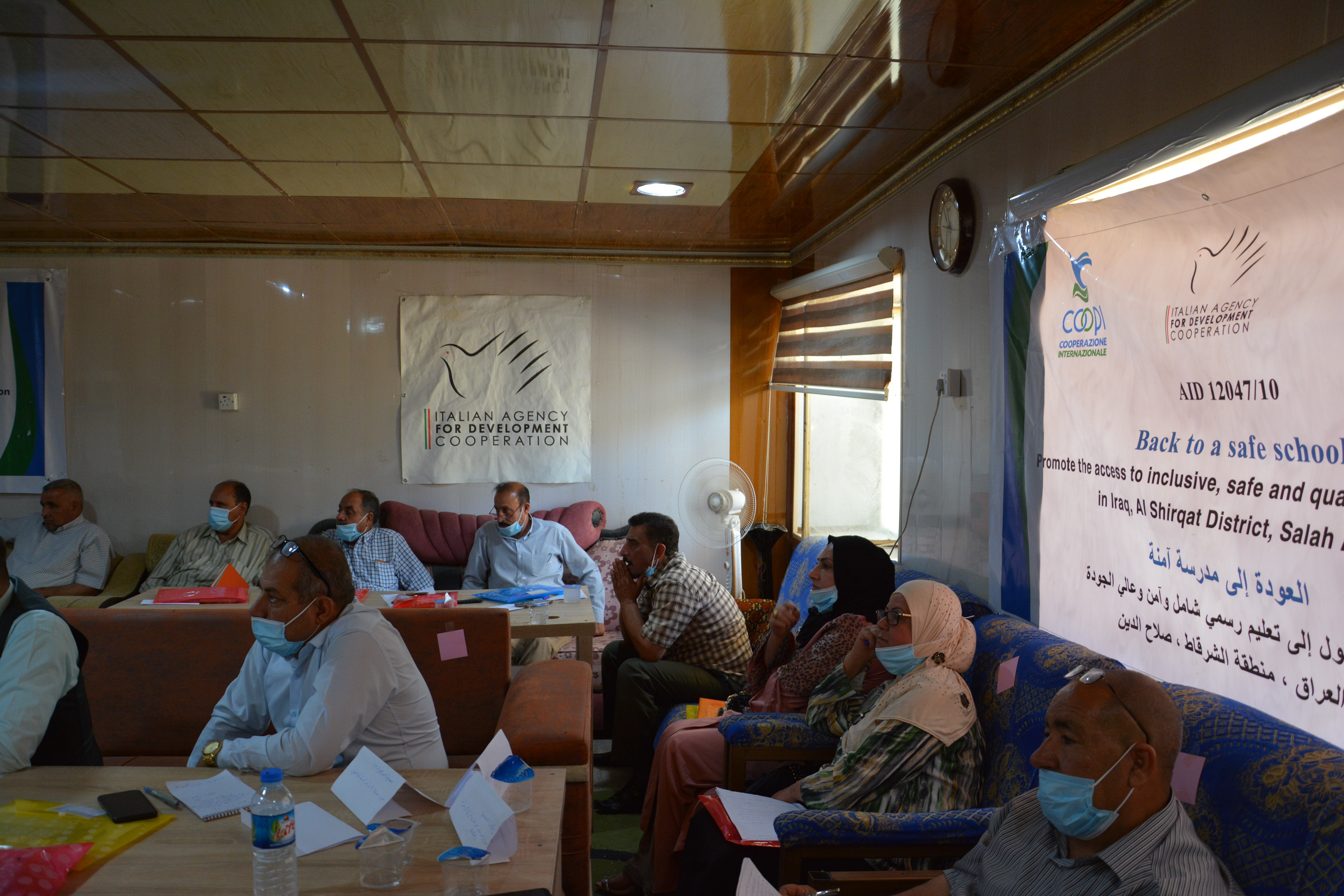 "Is good to feel that we are considered and that our challenges and needs are taken into consideration" Hassan, lecturer who took part of the project's activities and trainings says. "We are not receiving a lot of training and support in our professional development. Sometimes our work is hard and it requires a lot of dedication. We have a lot of children, sometimes is overwhelming".
These trainings have been delivered from May to August and in the meanwhile, a lot of monitoring and "on the job" work have been done to ensure that the content of the trainings was being put in practice.
Taking care about teachers' professional development and well-being is part of the trainings' goals: transferring new concepts and skills focusing on class management, child well-being, child centred teaching methods, but also on teacher and school leadership and governance is something that COOPI is prioritizing always more in education interventions. This allows to have more sustainable interventions and make sure to create always a better environment to improve the education system.
In this sense, it is COOPI responsibility to provide teachers with the support they deserve as they play a key role in children's learning, well-being, and development. They constitute an important educational figure in the growth process of every child, especially they are contributing to create change and resilience in the society.