Mali
07-02-2019 | di COOPI
Mali: raising awareness among the women's community to fight against malnutrition
Ségou region is one of COOPI main areas of intervention in Mali: since 2013, it has been significantly ravaged by infant morbidity and mortality, caused by acute malnutrition, which is still mainly affecting children under the age of 5, as well as pregnant and breastfeeding women.
Since our very first projects, we have contributed to prevent and treat acute malnutrition. And, now, we are eventually at a turning point. Our "Strengthening of the integration strategy for sustainability of prevention and taking care of acute malnutrition in Ségou, Mali" project, funded by AICS (the Italian Agency for Development Cooperation), enabled the beneficiary communities to prevent, detect and report on cases of malnutrition.
Thanks to the promotion of good infant-child feeding practices (IYCF), Intensive Educational and Nutritional Recovery Unit (URENI) recorded an outstanding recovery rate of 98% in children under 5 years of age, compared to the starting indicator of 75%.
In addition, local units reported a mortality rate of only 2%, well below the critical threshold of 10%, thanks to effective screening for Severe Acute Malnutrition (SAM), which allowed to treat about 98,500 children, aged between 6 and 59 months.
This is a remarkable achievement, reached after implementing several additional activities, which allowed technical services, local and community administrative authorities and beneficiaries to include the fight against malnutrition in the local health development plan.
Raising awareness and education to good IYCF practices
Since 2017, the number of pregnant and breastfeeding women who familiarised with exclusive breastfeeding and with at least 4 good IYCF practices has increased from 36% to 56%: about 18,400 mothers were trained during 1,817 educational sessions, 250 more than the number initially budgeted.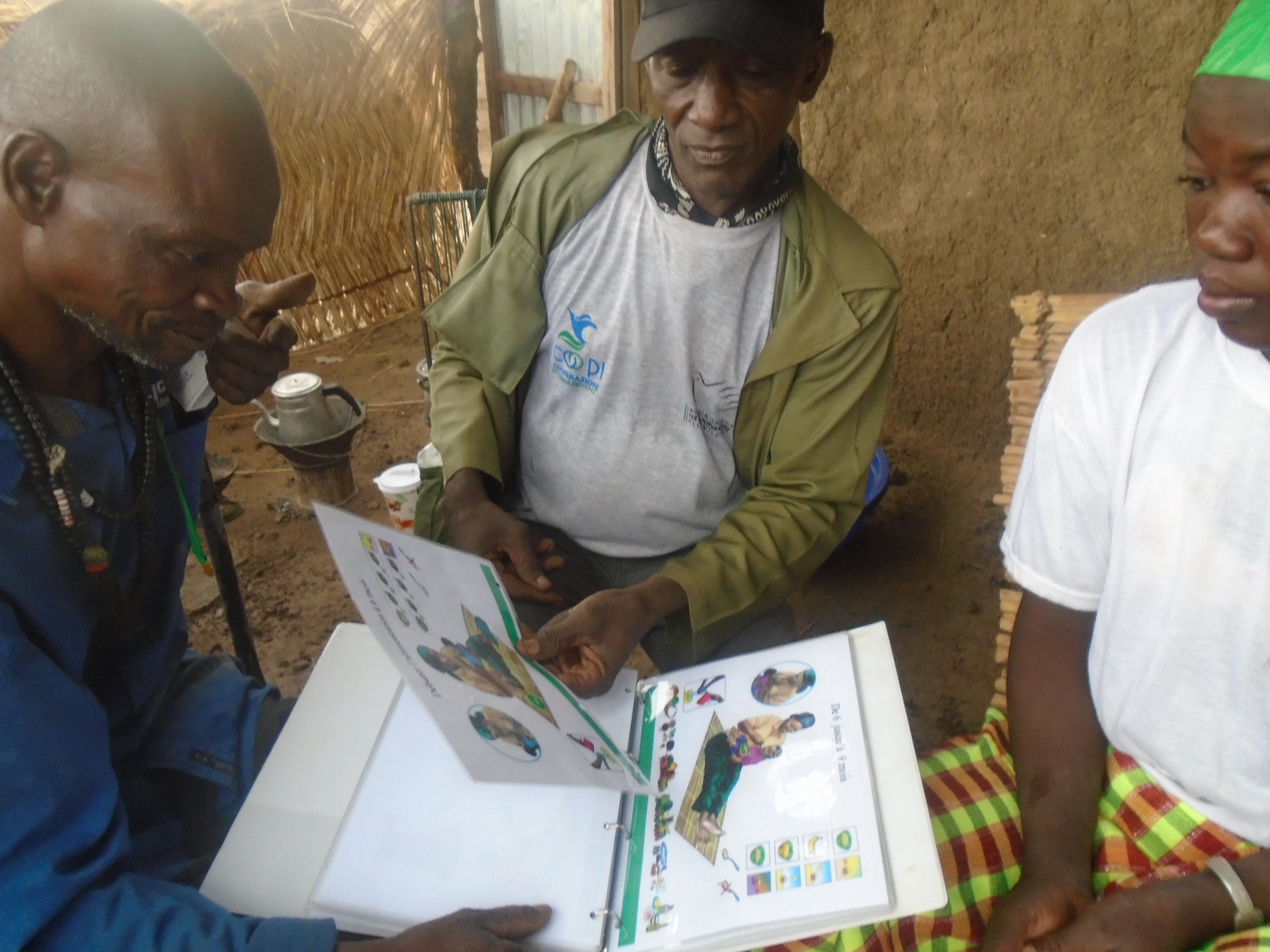 Training sessions concerning exclusive breastfeeding
Among the best practices shared, food diversification significantly increased from 66.38% in 2017 to 86.3% in 2018. This thrive in food diversification can also be attributed to the effectiveness of culinary demonstrations – during "bouillie enrichie" teaching lessons, women were taught how to cook this vital food supplement based on local cereal flour. These activities finally resulted in a recipe book, based on local products, which would promote food diversification. To better remember these best practices, 2,735 leaflets were written in the local language, illustrating an overview of the ingredients and quantities to be used, as well as the method of preparation of each recipe and its benefits.
Food diversification by empowering agricultural groups of women
9 groups of women were identified to promote diversification by growing local food, rich in micronutrients, so as to prevent malnutrition. Women belonging to the groups were trained and sensitised by COOPI agents on how to plant seeds and use of the working tools included in the agricultural kit supplied. They were also taught the importance of using a variety of horticultural products to promote food diversification and a healthy lifestyle for both children and adults.
Local staff training and social sustainability
Transfer knowledge and responsibilities was another key aspect of our project. To this end, the main actors of the project, including community agents, village committees and health service workers were trained to tackle malnutrition in the long run.
As far as health workers are concerned, nurses and nutritional assistants were trained to raise awareness among mothers, provide adequate medical care and monitor the vital parameters of patients and their children. Currently, for example, medical staff training helped to increase the recovery rate of severely malnourished patients up to 99.8%.
Our "Strengthening of the integration strategy for sustainability of prevention and taking care of acute malnutrition in Ségou, Mali" project contributed to create and activate an effective community network, in synergy with existing health facilities, thus confirming a successful community approach to support nutrition activities.