Mali
27-08-2018 | di COOPI
Mali, strengthened action against malnutrition
As part of the program to fight child malnutrition launched in 2013 in Mali by the NGO COOPI, the Italian Development Cooperation Agency (AICS) funded a project that aims to strengthen the capacities of the District Health of Segou, of medical personnel and all actors involved (health authorities, local and community) to support the activities of awareness, screening and referral of children under 5 years of age suffering from severe malnutrition.
Activities that began on January 16, 2018 are achieving good results and will be completed as planned on October 15, 2018.
To date, the project has trained 569 community leaders on screening techniques for the detection of child malnutrition. Community leaders, in turn, trained 5,391 breast-feeding women and women of childbearing age to identify symptoms of malnutrition and to use MUAC bracelets to determine the presence of malnutrition. In addition, community leaders raised awareness among more than 14,000 people through home visits on the causes and clinical signs of malnutrition in order to facilitate self-diagnosis of children suffering from malnutrition.
Also in the structures to heal the agents of COOPI sensitized 2,406 mothers and accompanying persons on the techniques of measurement of the brachial perimeter, good practices of feeding the newborn child, breastfeeding, family planning and hygienic practices to prevent malnutrition-related diseases such as malaria and diarrhoeal diseases. Within the Community Health Centres, 2,317 mothers and accompanying persons benefited from hygiene kits made up of solid, liquid and powdered soaps, containers and aquatums to purify the water.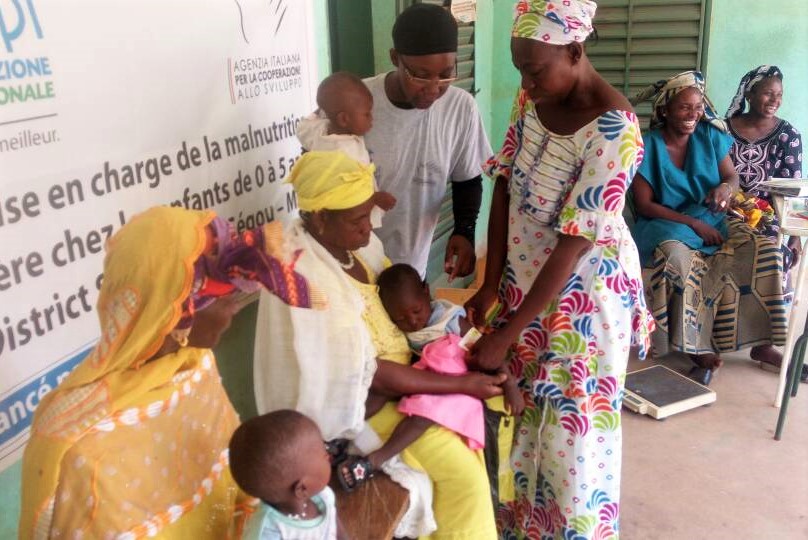 702 women with breastfeeding difficulties were supported in health care facilities with awareness sessions on recommended breastfeeding practices for up to 24 months.
15,128 pregnant and breast-feeding women were sensitized on the use of complementary foods for children after 6 months of life, balanced and diversified food intake prepared with local products.
These awareness-raising and screening activities have contributed significantly to the improvement of malnutrition cases identified within the communities and treated in the area's Health Centres, to the prevention of MAS cases and to the reduction of the rate of abandonment of care.
Of the 3,313 MAS cases envisaged, 2,817 cases were identified and taken into account, i.e. 85% of the initial forecasts. To date, the program has successfully cured up to healing 2,472 MAS children, of whom 182 with complications.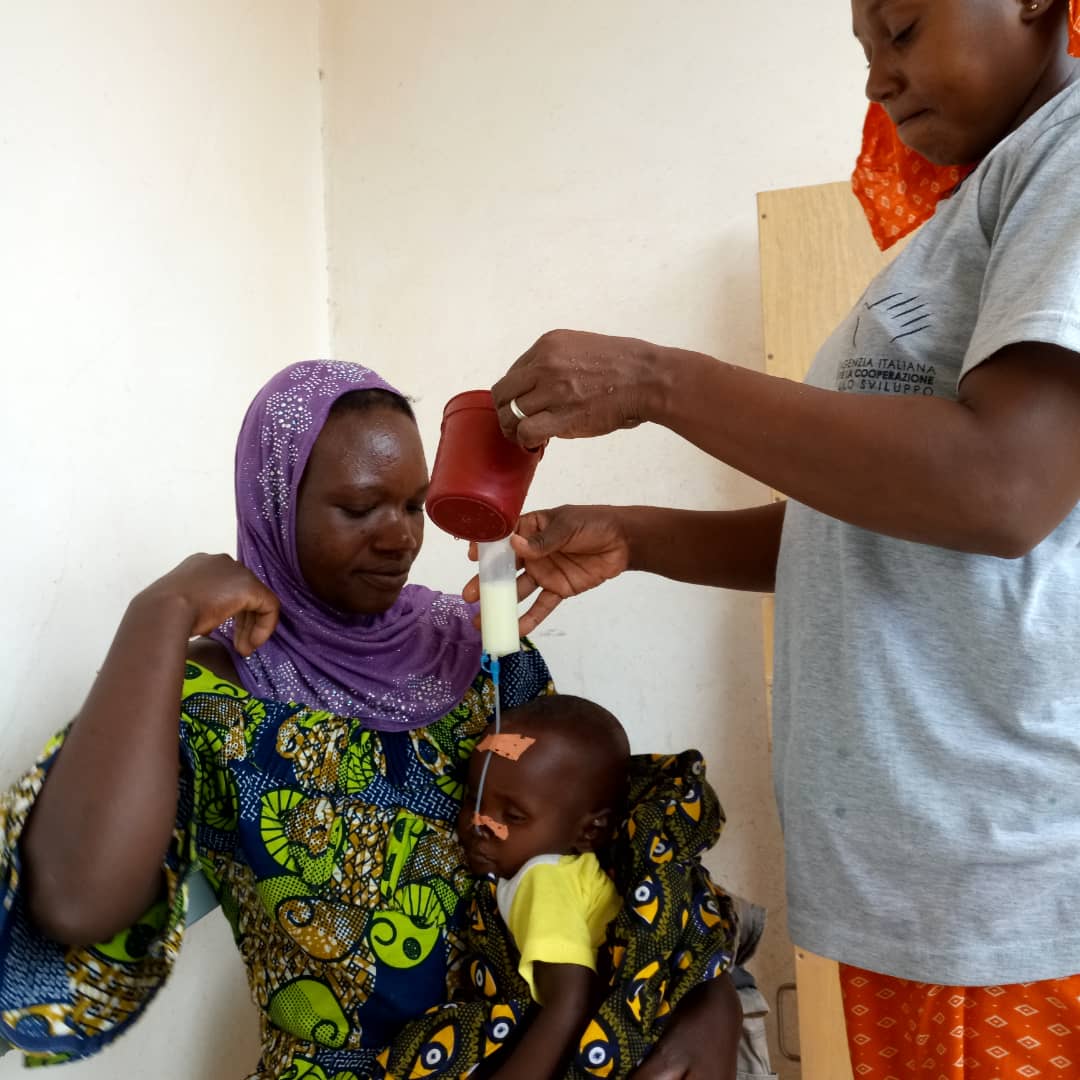 During the activities of the project, regular joint training supervision visits were carried out by the technical-sanitary staff of the Segou Health District and COOPI staff at the Community Health Centres (CSCOM) and during the activities of the nutrition groups in 48 villages. Supervisions were carried out in 20 Health Areas with the aim of improving nutritional activities, the skills of the Technical Directors of the Centres and the quality of the care of Severe Acute Malnutrition (MAS) in children under 5 years of age.
Joint training supervision strengthened and consolidated training outcomes, controlled and promoted the proper management of national protocols for malnutrition in health care settings, and integrated nutritional activities into the functions of health managers and communities.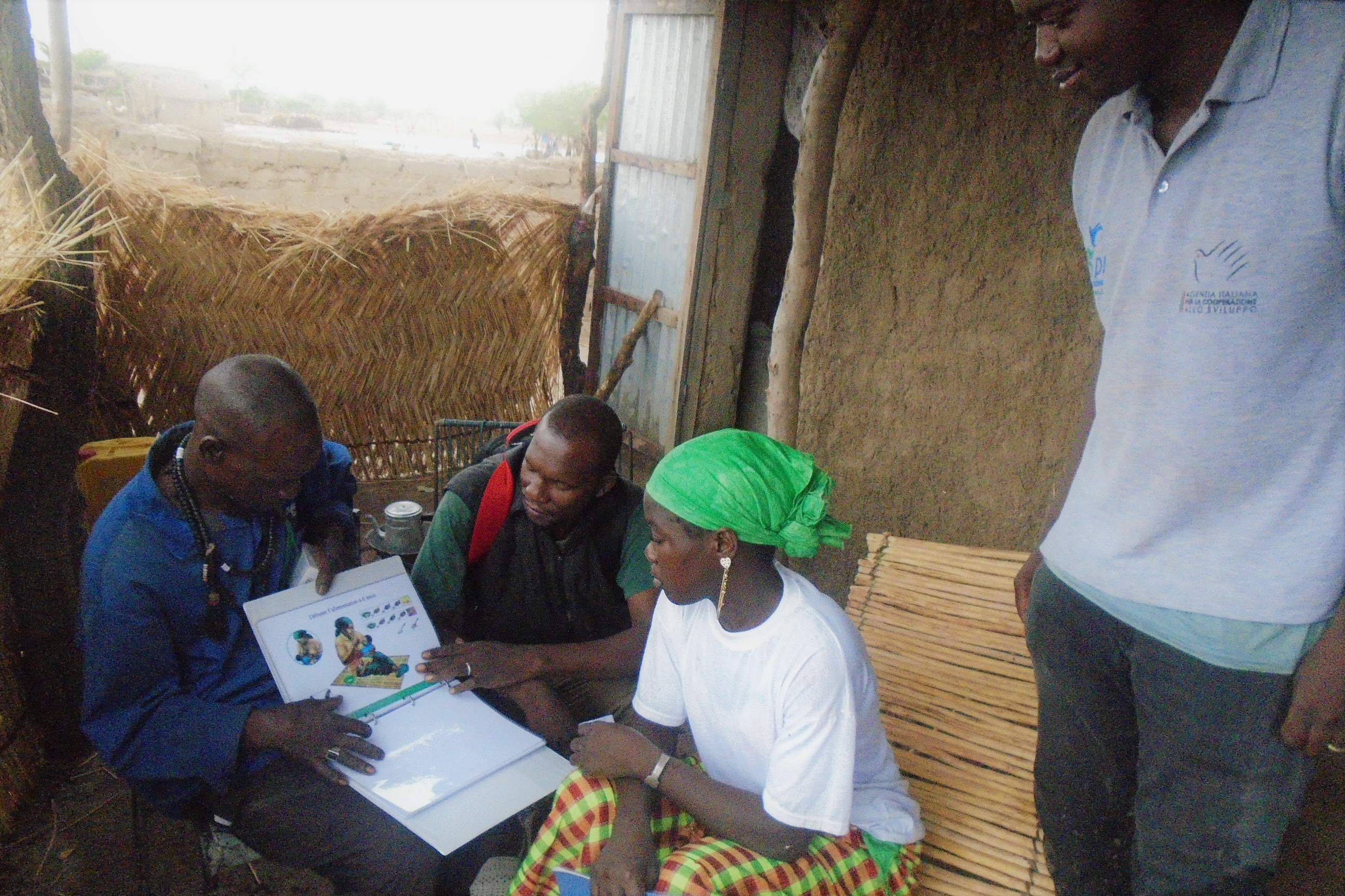 To raise awareness among local communities, a mass awareness campaign was also organised in areas with a high prevalence of child malnutrition. During the campaign, a caravan crossed 5 Health Areas to raise community awareness of good nutrition and hygiene practices and distribute Hygiene Kits to resident families.
260 nutritional demonstrations were organised involving 12,148 women and 1,900 men from 156 villages across 25 health areas. During the demonstration sessions, local products (millet, peanuts and cowpeas) were used to promote food diversification. On the basis of the nutritional demonstrations carried out, a recipe book will then be printed and distributed to women attending healthcare facilities.
To ensure the durability of activities to identify cases of malnutrition COOPI has set up 20 village committees working in collaboration with health centers through a solidarity fund for health created within the villages.