Sudan
15-06-2019 | di COOPI
North Darfur: Abubaker teaches us how ancestors faced drought
Mr. Osman Abubaker Osman is a farmer in Baina village in North Darfur who adopted an innovative practice of harvesting water coming from mountain to his farm located at the foot of the mountain.
Without any formal education and any other external training, he made a well-designed farm layout for planting different types of crops along the foot of the hill. He plants different crops according to their different moisture demands and corresponding water availability levels within the catchment area. With this technology, Mr. Abubaker has been able to grow every season different type of crops, vegetables and trees including millet, beans, cowpeas, okra, water melon and Zizyphus trees.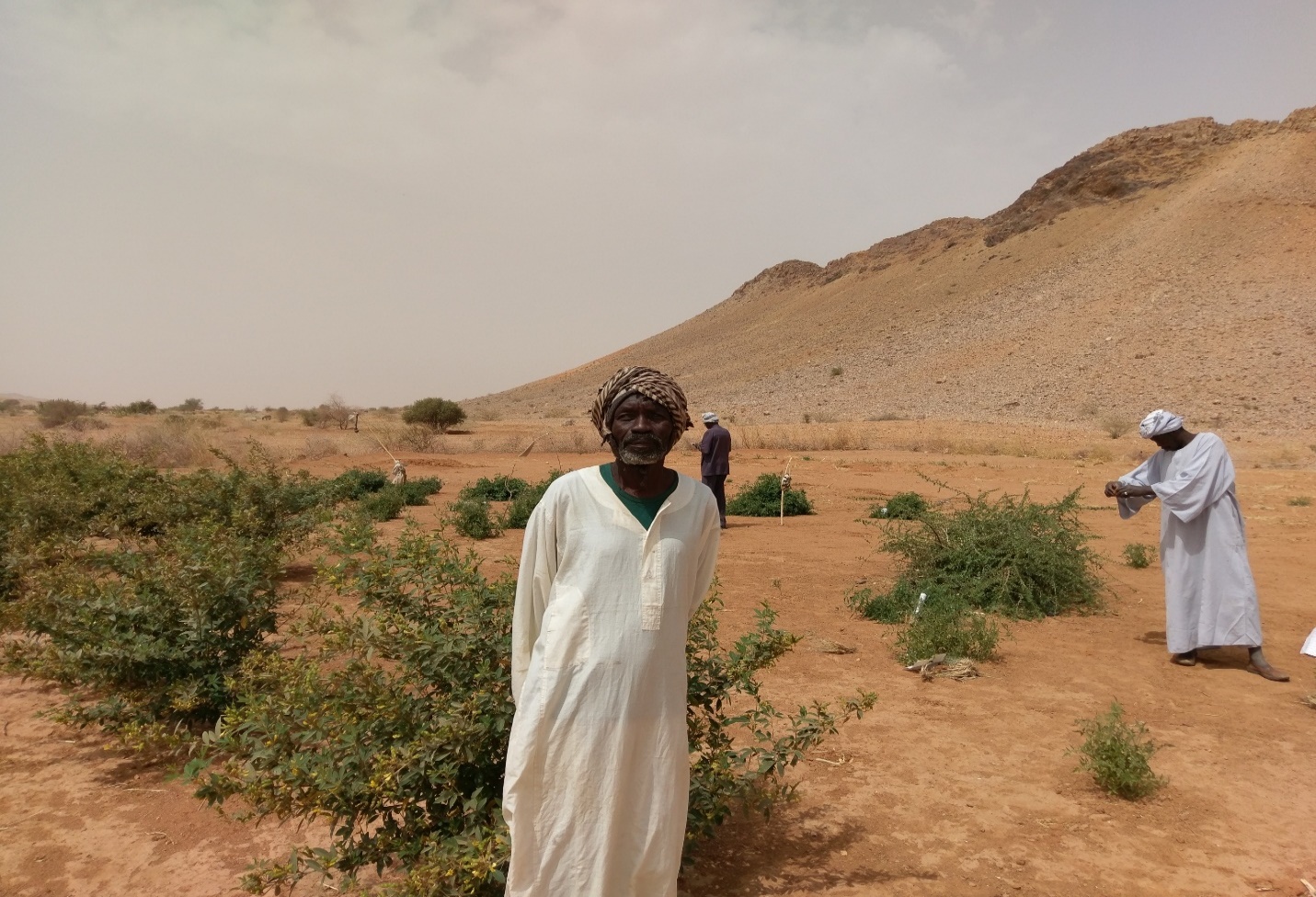 Osman Abubaker Osman, farme in Baina village, Northern Darfur, in his field.
Abubaker, can you explain how have you come up with this technique?
"It was the result of the challenges that we farmers face in the area. I learnt this technique from my fore fathers who had to adopt it in order to manage the impacts of the climate change particularly draught and soil erosion."
You have arranged crops and trees according to their water needs. What does this mean?
"Planting different crops and tree species in my farm comes with additional benefits. For example, leguminous crops like pigeon peas and cow peas contribute to increasing soil fertility through nitrogen fixation and protecting the terraces from water erosion. On the other hand, the Zizyphus trees protect the terrace from water erosion from outside at the back of the terraces.
I also noticed a great difference between the crop yield before and after terraces were constructed. My yields are now far better compared to my neighbours' ones. This is why my nearby farmers are now rapidly constructing terraces in their fields to preserve soil, collect water and improve crop yields".
In 2017, when COOPI launched the European Union-funded project "Strengthening Local Communities resilience to climate change in North Darfur", in collaboration with the Sudanese Environmental Conservation Society (SECS), as part of the Global Climate Change Alliance + (GCCA+) initiative, Abubaker took on the key role of advisor in his village.
Thanks to his knowledge of climate change and natural resource management, the community selected him as one of the participants in the project's launch workshop in Khartoum in June 2018. During the workshop, Abubaker shared his experience with policy makers, funders and farmers in other regions of Sudan, inviting them to support local farmers in the fight against climate change. Upon his return, he reported the lessons learned to the members of the Baina community.