Somalia
14-12-2020 | di COOPI
Somalia. 250 vulnerable people initiated into entrepreneurship by COOPI
In Mogadishu, 250 vulnerable returnees, displaced persons and members of the host population received training and cash to start a small business, thanks to the project "Developing Entrepreneurial mind-set of returnees, IDPs & host communities through capacity building and start-up grants provision", funded by the United Nations High Commissioner for Refugees (UNHCR) and implemented by COOPI – Cooperazione Internazionale since January to November 2020.
The project stems from the need to facilitate the social and economic reintegration of returnees, mainly from Kenya, and internal displaced persons who often have no access to economic support from their families and even less from financial institutions. The unemployed condition in which they are once they arrive in the peripheral areas of Mogadishu does not allow them to live in healthy and dignified conditions.
In order to mitigate this problem, the beneficiaries of the project - chosen on the basis of vulnerability criteria shared by the communities of origin themselves - attended a two-month course aimed at training on economic and managerial issues. The first training cycle involved 50 people, the second 100 and the third as well.
In September, during a ceremony, the 150 beneficiaries of the first and second phases received a certificate of attendance and an initial grant of $500 to start up the business. In addition, the representative of the financial institutions who was present gave them information on the system of loans that banks grant to those who have received a start-up subsidy. In addition, COOPI encouraged each participant to consult it for any technical support and partner search.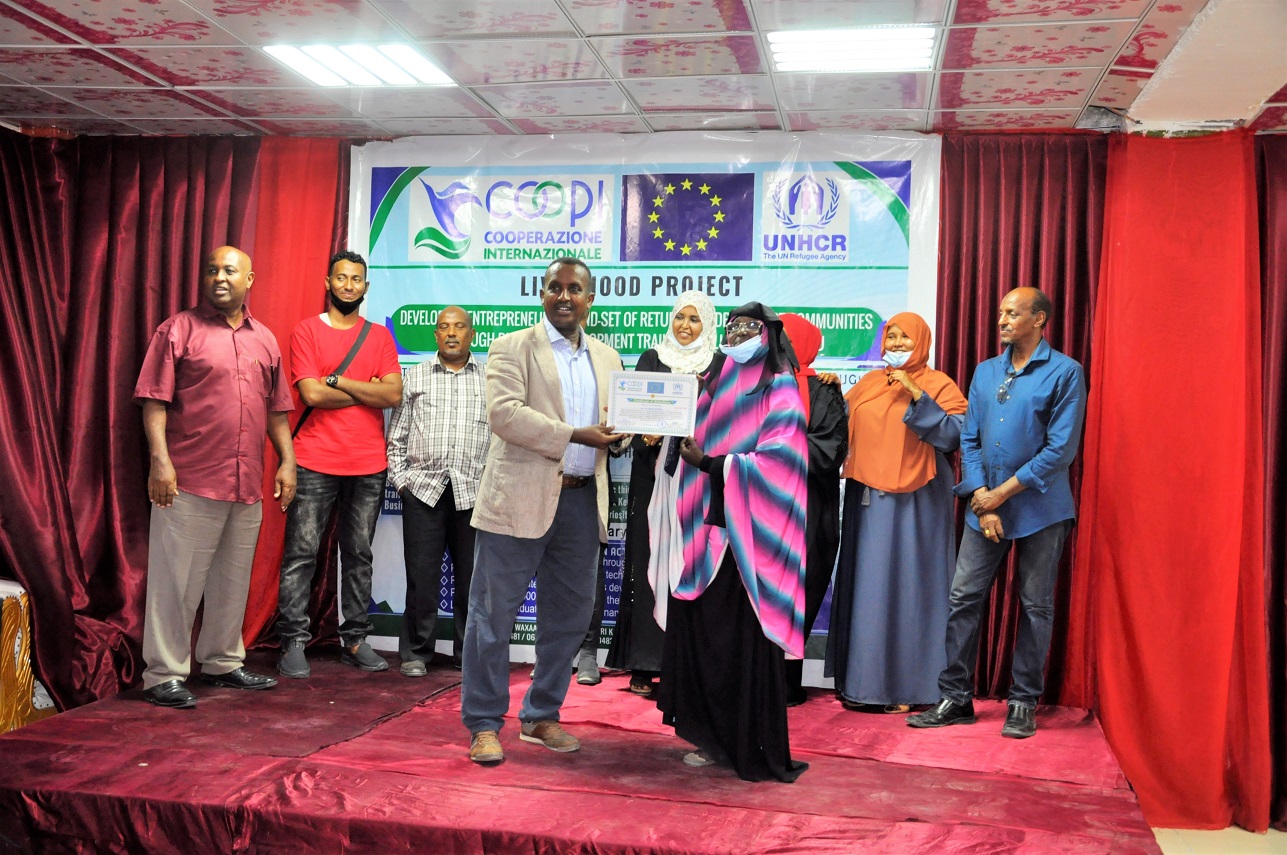 The same ceremony took place recently, in November, for the awarding of certificates to the third group of students.
COOPI kicked off the entrepreneurial training courses in Somalia in 2017 and trained 1,210 beneficiaries to date.
In the following photo gallery, some pictures of the final ceremonies.