Somalia
16-03-2020 | di COOPI
Somalia. Fodder storage helping communities to build resilience
Saharla Farah Warsame, aged 55, is a mother of 7 children (2 males, 5 females) and has 22 grandchildren. She lives in Dayah village, situated in Dollow District, where she owns 1 hectare of farmland, 30 shoats and 2 cattle, which are her main sources of livelihood. She is one of the beneficiaries of the program "Enhancing resilience in Somalia" financed by Australia Department for Foreign Assistance and Trade, implemented by COOPI in the framework of Somali Resilience Programme (SomReP).
Her village is home to hundreds of agro-pastoral families who largely depend on livestock and agriculture for their livelihoods and are vulnerable to climatic shocks, such as frequent droughts and flash floods during the rainy seasons. Being dependent on livestock for their livelihood, the availability of fodder is crucial in maintaining good health and improving breeding efficiency and milk production of their livestock herds.
Before COOPI's intervention, she had struggled to take advantage of the full potential of her farm. She had been practicing farming for decades, and was mainly growing maize and cowpeas, whose yields were low. She sold the grains in the local market and gave the remaining stalks, leaves and ears to her livestock as fodder. Her low harvests, especially during dry seasons, meant less feed for her livestock, thus, imbalanced pasture nutrient supply leading to low calving, reduced milk production, and disease prevalence and livestock losses, thereby occasioning low food access and high debt levels on her livestock dependent household.
She also faced a multitude challenges with the lack of a storage for the fodder. She explains, "I lost a large number of livestock since I was unable to effectively store their feed, especially during the dry seasons. I would keep the fodder in an open-air enclosure outside my residence. Majority of it would either be blown away by wind, eaten by other animals, or, during the rains, would get rained on and go bad. Those were difficult times we faced in the village".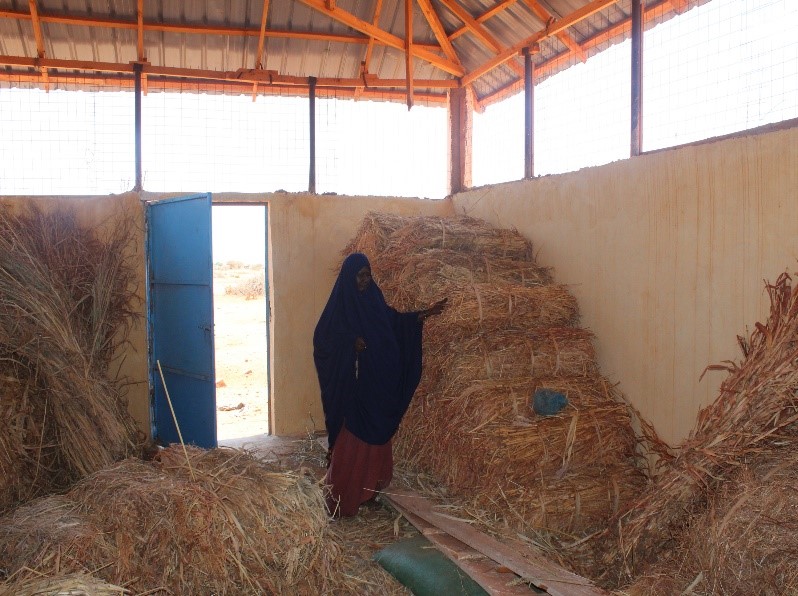 Saharla in the new fodder storage
In 2018, COOPI, constructed a fodder storage in Dayah village, bringing an end to years of stress and difficulties for the residents. The fodder storage proved to be a reliable holding area for the bales of fodder harvested by farmers in the village from season to season.
Saharla says, "the storage has brought a sigh of relief for our community. It has not only been able to hold our fodder for months, but has also kept it protected from extreme weather elements, while at the same time maintaining its quality. Therefore, our livestock have had constant supply of feed."
She adds: "Although I store all the fodder I harvest for the animals, COOPI training conducted for farmers in our village has enabled us to improve our farming methods and we have now diversified from the maize and sorghum we were mostly growing. I borrowed a loan from the Revolving Loan Fund facility and have purchased seeds and farming tools. I have started growing Sudan grass as a fodder alternative, and also onions, tomatoes and watermelons, which I expect to earn an income from in the coming weeks".
"The fodder storage has been nothing short of a blessing and we are not worried anymore about spoilage. I am very optimistic about the future and look forward many years of good health and wealth. Thank you COOPI, SOMREP and DFAT" she appreciates.