Somalia
16-04-2020 | di COOPI
Somalia. Village Saving and Loan Association empowers women in Shriko village
Sowdo Mohamed's family, residing in Shriko village, Belet Hawa district – Somalia – has gone through a positive transformation thanks to the project "Enhancing resilience in Somalia", financed by the Australia Department for Foreign Assistance and Trade and implemented by COOPI through the Somali Resilience Programme (SomReP). Now the mother is a successful businesswoman, the husband is rearing healthy livestock, children are enrolled in decent schools and the household has a balanced diet.
Sowdo recalls the struggles she went through with her husband, not having enough income to provide for their household. They were unemployed and desperate. They lived from hand to mouth.
"Life was difficult, especially during the times of drought, when I wished I was able to provide support to my husband. We lost half of our livestock during the recent drought in 2017 and since my farm solely depends on rain-fed water, my produce was very low, thus it was not enough to cater for the household needs. I could not even afford to enroll my children into school. This compelled me to delve into a small business where I would sell sugar, vegetables, rice wheat flour and biscuits from my home. This also did little to improve our financial situation".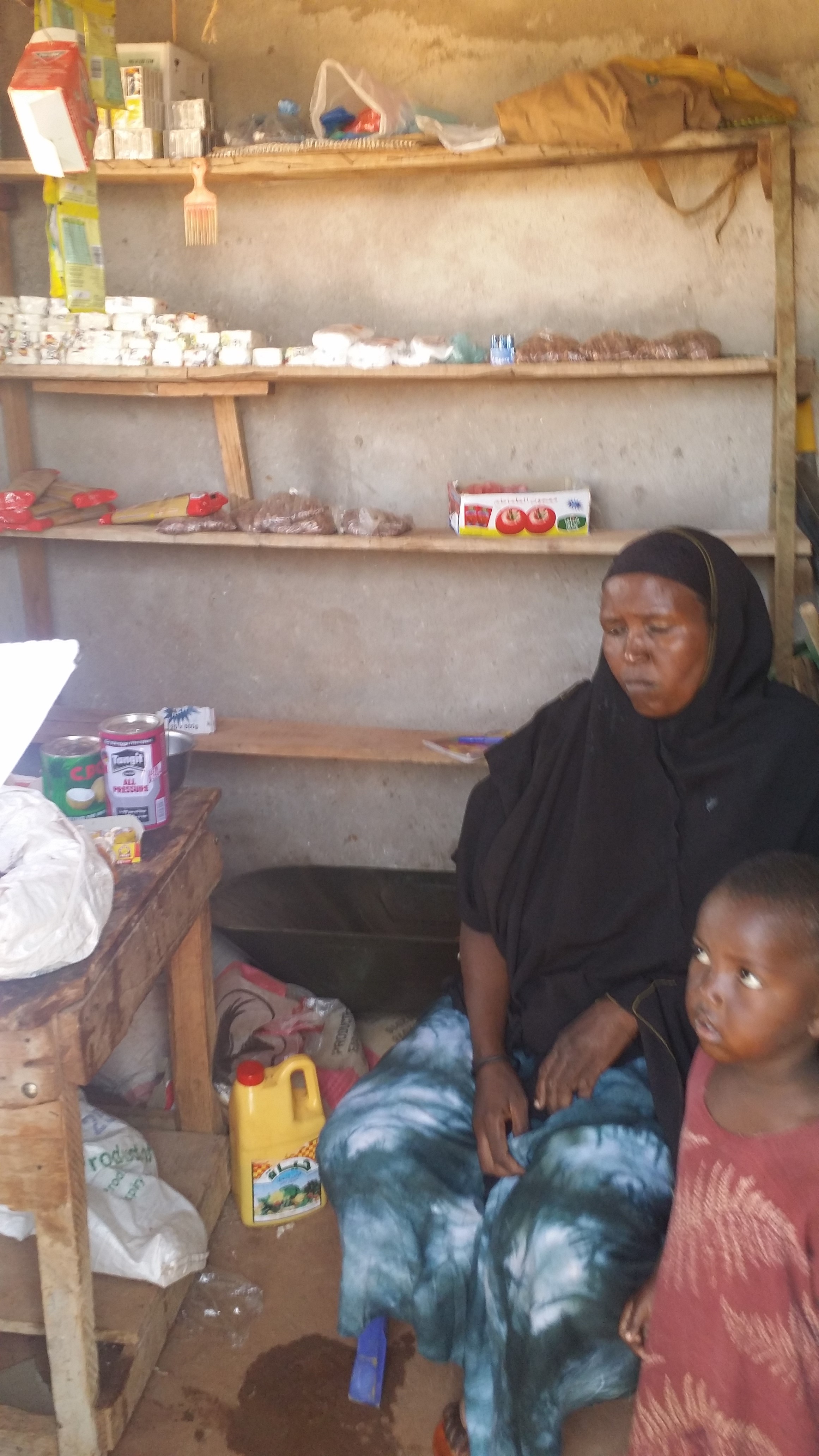 Sowdo in her shop
Thanks to COOPI intervention in Shriko village, Sowdo was selected to be enrolled in the Village Savings and Loans Association (VSLA) and to take part in Business Development Skills (BDS) training. As a member of the 2nd VSLA association in her village, she received a kit comprising of a metal box for savings, a passbook, share stamp and a token. She explains: "The training has taught me the importance of savings and loan facilities in a community like ours that does not have easy access to formal financial services. Thanks to the training sessions, I acquired new skills in using savings and investing in business opportunities aiming to boost our household's income".
With her savings and a loan worth $400, she was able to expand her business by building a small iron-sheet shop where she started selling goods imported by Madera, the neighbouring town in Kenya. This let her have an average monthly profit of 130$ which enabled her to pay back her loan within three months. Moreover, she obtained 75$ dollars thanks to the share-out and she will use them to increase her stock in the business.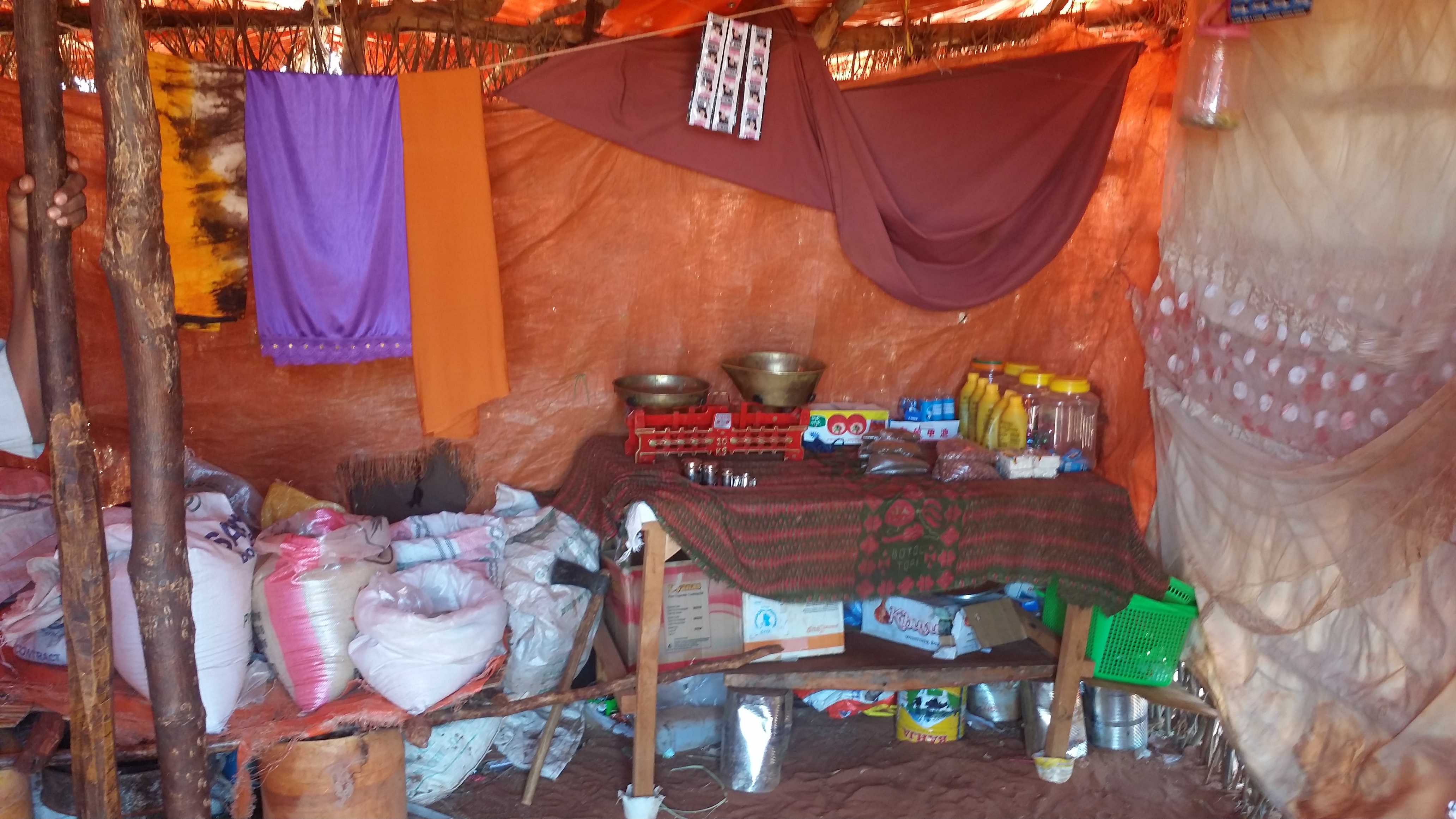 Sowdo's shop
"The day I joined the VSLA group, my life changed for the better. Before, my business was not profitable enough. Up to today, I expanded my business and my income is good enough to cover daily expenses, buy adequate food, pay medication and children's school fees. I am very thankful since the project made us realize that we are not poor. Before, we did not know much about saving and planning, but this is exactly what this project taught us. I now plan to save more for future investment and in case of emergency. I also encourage all women to join VSLA groups because it is one of the best ways to fight poverty, improve livelihoods and empower women among other benefits".
"Thanks to COOPI, DFAT and SOMREP for bringing to us such a blessing. You have shown us the light".