Central African Republic
03-03-2022 | di COOPI
CAR. With the European Union, COOPI relaunches fish farming
Since July 2017, COOPI - Cooperazione Internazionale has been supporting the National Federation of Fishermen and Aquaculturists of Central Africa (FNPAC), thanks to the European Union's Bêkou Fund. The most recent project, in which FNPAC is actively included, is called "Support for the professionalisation of the agro-pastoral and handicraft sectors in Bangui and neighbouring localities". Launched in January 2021 and still ongoing, the project is the urban component of a more comprehensive integrated programme called PAPEUR.
Dialoguing last 18 August 2021 with FNPAC, COOPI noted that the major concerns of members are maintaining the integrity of pond structures, access to quality formulated feeds, access to a diversity of spawning species and security of ponds against recurrent fish theft.
COOPI has planned to articulate its intervention along three axes:
Infrastructure support with the rehabilitation, fitting out and equipping of the fish farming station in NDress, Bangui;
Support for capacity building with the training of 310 fish farmers in animal husbandry and veterinary skills;
Support for livestock inputs, mainly distribution of spawning fish, feed and small livestock equipment and tools (quicklime, picks, shovels, hoes, machetes, landing nets).
The FNPAC reports: "We think it is important to support the fish farming sector in order to improve the food security situation of less well-off families and ensure their access to animal proteins with high nutritional value at the most affordable prices, to contribute to the reduction of youth unemployment and the strengthening of small income generating capacities."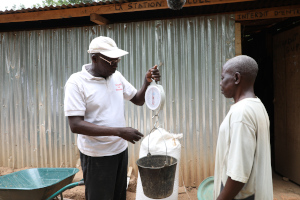 Among FNPAC members, women and youth take pride of place because of their numbers, the highly strategic level of their involvement and their proven dynamism in the field. In terms of level of involvement, youth and women constitute a significant workforce in key activities such as pond rehabilitation, daily feeding of ponds and fish marketing. Unfortunately, due to cultural constraints, there is very little female leadership at the moment: there are 12 leading members, 3 of whom are women; FNPAC explains:
"The FNPAC office in Bangui encourages the participation of women in management and decision-making positions in general. Special attention is given to young working women and those wishing to enter the sector; this is also why it is important that COOPI has established visibility and promotional activities to encourage female students to approach our work."
FNPAC, created on 13 April 2007, is a corporate association with 4,500 members, divided into 229 organisations. Its aim is to defend the moral and material interests of its members and of the actors in the entire fish farming value chain, in particular fishermen, fish farmers and fish traders.
COOPI accompanies FNPAC through the strengthening of its internal organisation and gives continuity from 2019 to concrete actions, including free and low-cost distributions of fry of good genetic value.