Central African Republic
21-08-2023 | di COOPI
Central African Republic. Didiane becomes a retailer who inspires women in Zemio
Didiane Gougbere used to sell chicory to feed her family. After 10 years in the business, her life has changed: she is no longer selling chicory, but has become a seller of cassava. According to the trader, it was not easy in the beginning because she was selling chikwangues (typical Central African food made of cassava) to survive and meet her family's needs, always keeping in mind the goal of expanding her business and becoming what she is today. Farming is not always easy in Zemio, given the unstable security situation in the area.
As of 2019, COOPI-Cooperazione Internazionale in consortium with ACTED, Concern Worldwide, IMPACT Initiative, OXFAM, and Free Press Unlimited-implemented the "I LA TENE TI TO NA MBONGO - Tous ensemble pour le sud-est" project funded by the European Union with the aim of renewing the social contract between institutions and the population by fostering peace and encouraging socioeconomic recovery through a community-based approach.
Didiane tells:
It used to take me a long time to cross the river to the Democratic Republic of Congo, where I carried sacks of cassava to sell, but thanks to this initiative I became what I am today."
The crisis has meant that many women today have turned to prostitution and have no value. For Didiane, it was a decision she made when she was still young to take care of her family, regardless of the challenges.
Today I succeeded because of my will, my courage and my determination, which are my values and my ideology: "As long as I'm alive, I have to make it"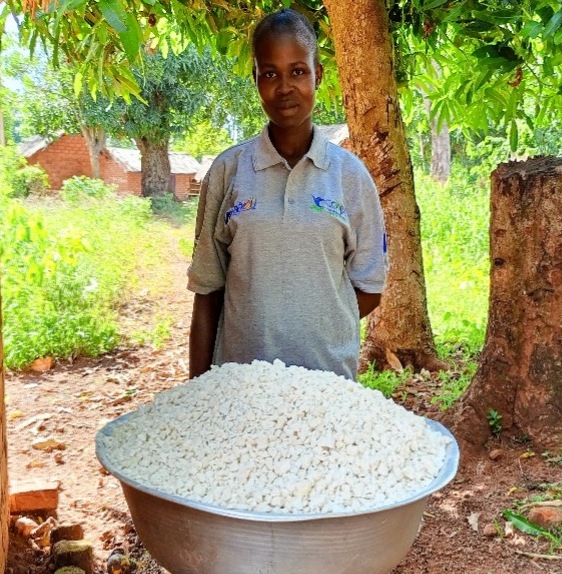 With financial support provided by the European Union, as part of COOPI's economic recovery project, groups were created where women were trained on income-generating activities, good governance, and Village Savings and Credit Associations, which helped Didiane become a trader.
Today she feels very proud of what she has become, both as a woman in the Zemio community and in the Central African Republic. Despite the difficulties on the river bank, illegal taxes imposed by armed groups, and high transportation costs, Didiane has managed through her determination and the support of the project of which she has been a part to make her business more and more operational, becoming a role model for the town.