Central African Republic
02-09-2019 | di COOPI
Chickens and hens to boost poultry farming in Bangui
In the chicken farms of the villages of Samba and in the 8th arrondissement of Bangui, several specimen of improved breeds of "Hubbard" broiler chickens and "Isa Brown" laying hens have been imported from France. The aim of these two sites - with 762 chickens and 744 hens - is to produce 393,700 eggs and 398,764 chicks within one year.
This is what we expect from the "PARFEC project to support for the relaunch of the urban and peri-urban breeding industry in the Central African Republic" - which began in June 2017 and will end in December 2019 - funded by the Bêkou Trust Fund of the European Union. The project aims to relaunch pig, fish and poultry farming and contributes to improve food and nutrition security of the population of Bangui, while strengthening the quality and quantity of animal products on the market in the capital and surrounding areas.
Our core activities focus on broiler chickens and laying hens breeding: to achieve this, two chicken farms have been built, equipped with suitable breeding sites that aim to produce enough chicks to supply some 400 farmers and with breeding equipment and materials, such as aviaries, laying nest, feeders, poultry drinkers, hatcheries, egg candling equipment.
Producers' self-sufficiency is another key aspect of our PARFEC project – we are giving technical and health support and training local staff on the protocols in force, as well as on skills' development and strengthening, so that, by the end of the project, chicken farms can be managed autonomously, both from an organizational and economic standpoint.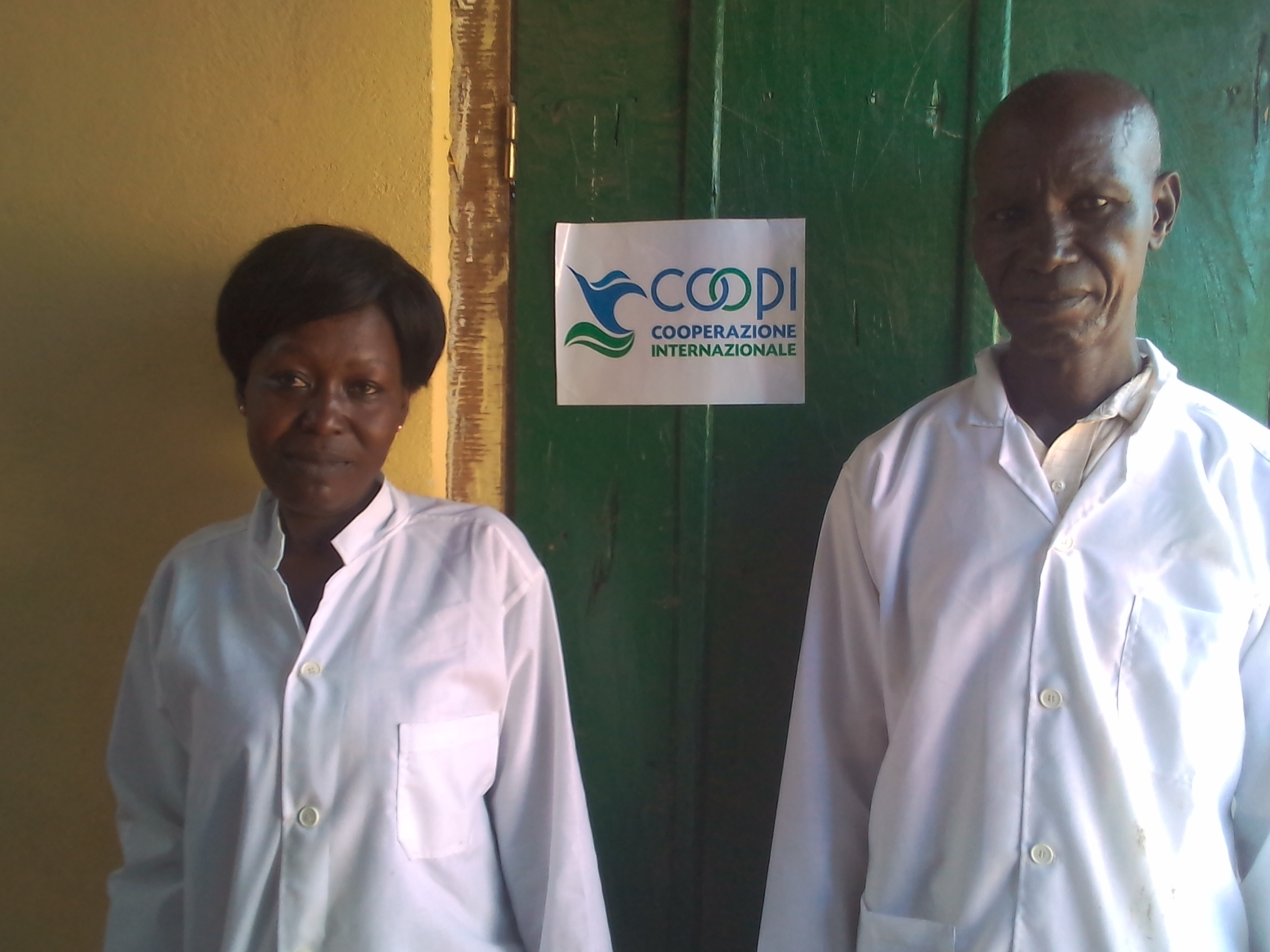 Mme SARAGBA Léocadie et M. YAMBA Jean Pierre, local staff working at Samba site
Since 2013, public infrastructure and the social and economic fabric of the Central African Republic collapsed, leading the country to an unprecedented humanitarian crisis.
As a result, food and nutrition security were also significantly undermined - according to the FAO/WFP Crop and Food Security Assessment Mission (CFSAM) report, in January 2016, 27% of the population of Bangui was food insecure due to a lack of animal proteins, caused by the rising of meat prices, a drastic drop in meat production and a decline in household purchasing power.
With the PARFEC project, we are committing to relaunch food production and strengthen institutional capacities in the CAR. To achieve this, we are focusing on small-scale urban and peri-urban livestock sector, from which will benefit approximately 1,400,000 people living in the capital and surroundings.
The livestock sector recovery will therefore be an opportunity for communities to undertake initiatives for the common welfare, create and maintain commercial bonds and strengthen the livestock supply chain with a view to a peaceful coexistence and social cohesion.