Nigeria
25-05-2020 | di COOPI
Covid-19. In Nigeria, face mask production enhance community resilience
More than a decade of armed conflict in northeast Nigeria has brought devastating effects on the lives, community assets and livelihood of 7. 9 million people, with over 1.6 million internally displaced people. The sudden pandemic emergency of COVID-19 presents another layer of stress to these populations, as disruptions of food, nutrition, health, water and sanitation supplies, and demands have affected people's well-being. Nevertheless, for Damaturu, Geidam and others Yobe State's benefitting communities, the introduction of the Food Security and Livelihoods program funded by the World Food Program (WFP) and implemented by COOPI, not only creates opportunities for self-reliance, but also ensures the transfer of portable skills that have been relevant in the actions against COVID19.
To Aisha Abdul Hamid, and her fellow beneficiaries of the tailoring skills group, the threat of COVID19 in Yobe was a call to give back to community the services of their new skills. They produced cloth face masks to ditribute them to the most at risk people such as the elderly, persons with disability and the chronic poor.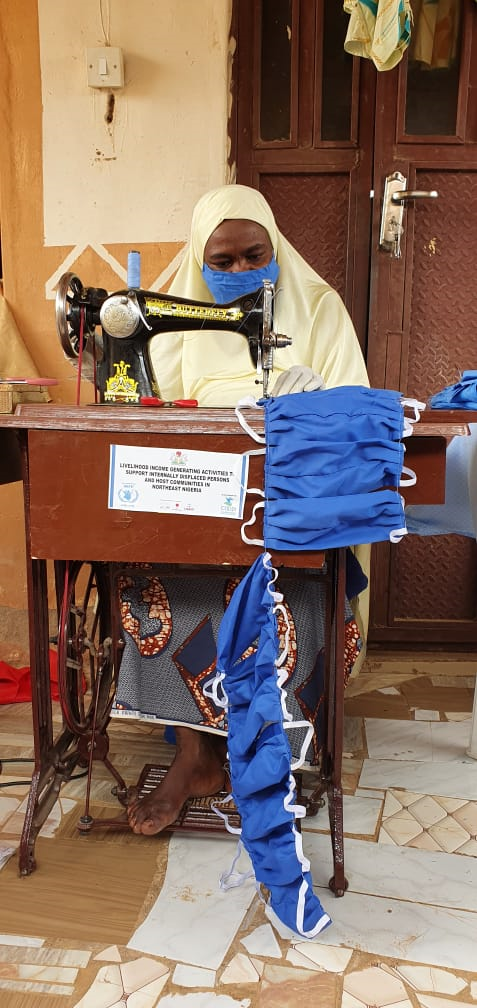 Aisha sewing masks
"We are motivated to be part of the solutions to this pandemic, and also overwhelmed with joy for the opportunity to give back to the community that has been hosting us" Amina expresses with enthusiasm.
Aisha currently lives in Abbari village of Damaturu LGA in Yobe State. She was displaced from her home in Gujba LGA, due to the insurgency of Boko haram. Her main source for her households (5 children) has been the food assistance and the makeshift shelter provided by humanitarian organizations. In her hope of returning to her original community and to live a normal life one day, she registered as beneficiary along with 10 other women from her community, into the livelihoods, food security and resilience program in Yobe State where she learned tailoring, and basic skills in home management.
Aisha sewing masks
"With the initial capital from the training and start-up package, fourteen of us (10 women and 4 male) joined together to produce the cloth face masks for an initial free distribution to the weak and elderly people. With further support from COOPI and WFP, the official endorsement of our product quality was obtained from the Health Ministry" Aisha explaines. After the Government implemented a new directive on the mandatory wearing of masks, our product gained the market.
This Income Generation Activity facilitated the reintegration of internally displace people and host communities with tailoring skills and entrepreneurship. To the 3680 households, and 10 communities of Yobe state, the WFP "Yobe Food Security and Livelihood improvement for Resilience Building Project" program has made a visible impact. The program also contributes to the restoration of critical agricultural assets and services for the mutual benefits of both populations.