Sierra Leone
19-01-2021 | di COOPI
Sierra Leone. How James became an inspiring cashew farmer
In Sierra Leone, the project "Promoting Small-Scale Agriculture - Pro-Resilience Action 2015" - funded by the European Union and implemented by COOPI – Cooperazione Internazionale - is coming to an end. The project has supported the production of cashew nuts, promoting the agricultural activity of 8,143 smallholders in four districts of Sierra Leone: Kambia, Bombali, Port Loko and Karene. In these areas, 10,153 hectares of land were dedicated to the production of cashew nuts, a product exported from Sierra Leone since 2017 with obvious benefits for producers.
Aruna James Kans Samura, a teacher from the village of Masunthu in the district of Kambia, is among the beneficiaries of the project through which he started his career as a beekeeper and cashew farmer.
Samura - as well as the other beneficiaries - was able to benefit from an initial supply of seeds and agricultural tools useful to improve the production of cashew nuts, as well as the training needed to start the business.
"I received 120 cashew seedlings in 2016, which was followed by several trainings by COOPI on how to plant and manage cashew plantations. I started planting cashew on a 3-hectare plot; in the last 4 years, I have expanded the crops reaching up to 10 hectares."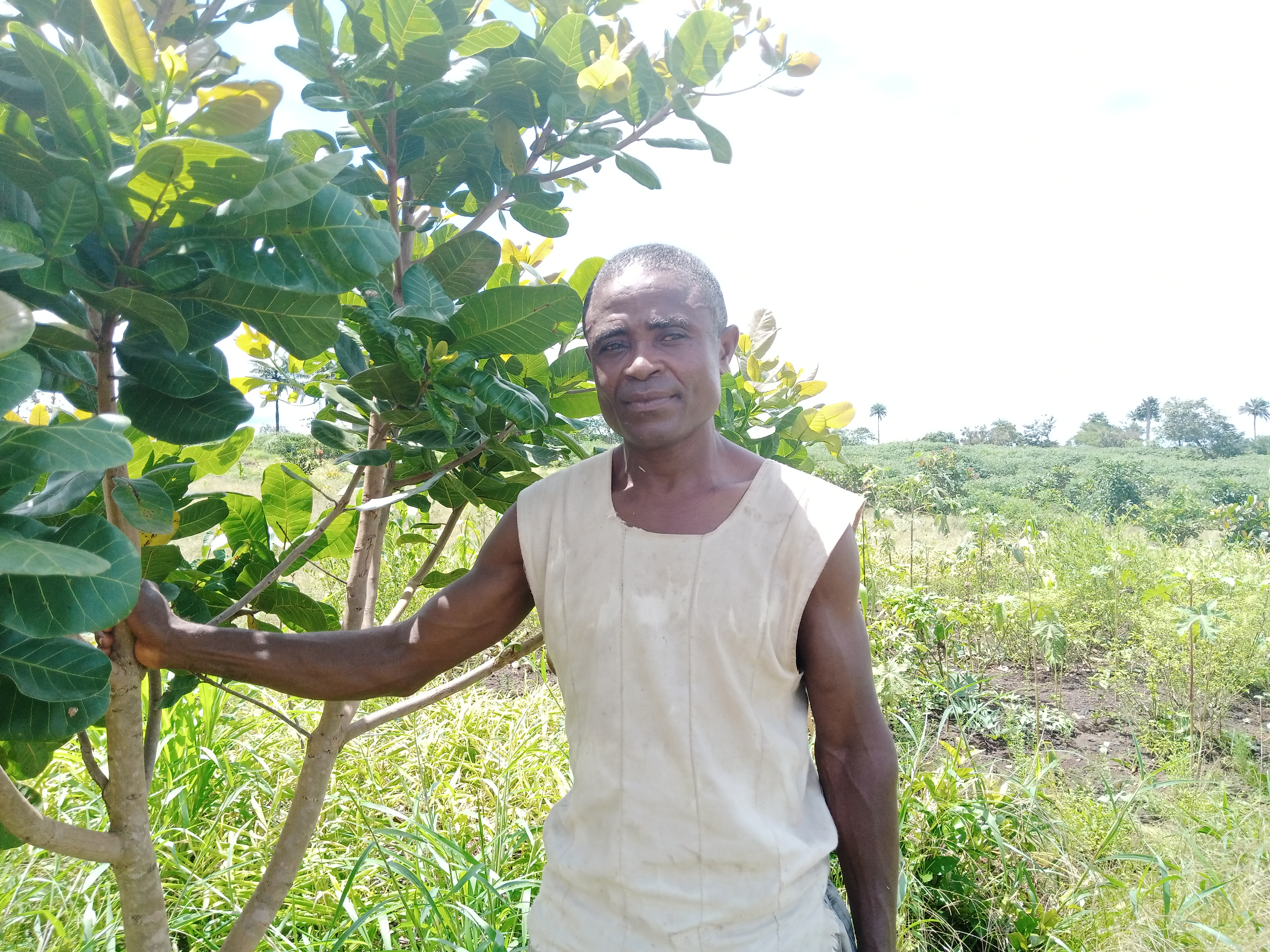 Aruna James Kans Samura
The project aimed to improve cashew as a commercial crop by incorporating the use of beekeeping and the LANN - Linking Agriculture, Nutrition and Natural Resource Management approach in order to reduce the high rate of food insecurity and increase the income of the country's vulnerable population.
Samura says, "The two boxes of honey that COOPI provided me with played a very important role in making it possible to cross-pollinate my cashew and the various cash crops I grow. In addition, the proceeds I get from the sale of honey are crucial in supporting my family and hiring people from the community willing to work on my crops."
The approach used by COOPI was greatly appreciated by Samura and the other farmers in his group, the Thunecbecky Farmers Association, who benefited from training focused on the importance of beekeeping in cashew plantations, proper farm maintenance and food safety.
As president of the abovementioned Farmer Based Organization, Samura maintains regular communications among group members and pushes member farmers to follow good agronomic practices by sharing his knowledge and best practices from which he has been able to benefit. Additionally, Samura hosts learning visits designed for other farmer associations in his groves in order to spread the techniques promoted by the project and to maximize the use of cashew orchards.
"Today I am proud to have succeeded as a cashew grower and beekeeper. This has been possible with the support of COOPI," Samura concluded.