Ethiopia
12-11-2020 | di COOPI
Do the right thing! The webinar on sustainable tourism and agriculture
On 24th November at 6 pm, COOPI will take part in the webinar "Rural Tourism and the Agricultural World: an integrated development", organized by the Italian Association of Responsible Tourism (AITR), as part of the cultural programme of the Fair of Critical Consumption and Sustainable Lifestyles, "Do the right thing!".
The event will focus on four development cooperation projects implemented in rural areas in four different countries of the world: Albania, Palestine, Bolivia and Ethiopia. As far as the latter is concerned, COOPI - Cooperazione Internazionale carries out the project "Intervention to improve sanitation and eco-tourism services in the Haro-Wenchi area (South West Sheva)" funded by the Italian Agency for Development Cooperation.
The project - started in 2018 - aims to improve the hygienic-sanitary conditions, the access to basic services and the economic opportunities of the local population, enhancing the sustainable use of natural resources in Wenchi.
Thanks to COOPI's activities, more than 100,000 people, including direct and indirect beneficiaries, now enjoy improved access to water and greater awareness of the importance of managing such a valuable asset.
Alongside this, COOPI is committed to improve the organization and management of services linked to the development of eco-sustainable and responsible tourism, respecting the environment, culture, gender equality and the local economy. Since the beginning of the project, various households infrastructures have been created to welcome tourists and improve health and personal hygiene.
To discuss how in each project the interaction between agricultural development and sustainable tourism development strongly emerges, they will intervene:
- Emilio Cabasino - Cooperation Officer, specialized in heritage and cultural activities, Italian Agency for Development Cooperation
- Diego Donzelli - Project Manager COOPI in Ethiopia
- Michela Fabbri - Head of Communication EducAid, Project Manager "In Palestine with EducAid"
- Eleonora Paro - Project Manager EducAid, Project "Sumud" Palestine
- Elisa Masi – Basic Services' Unit Project Manager, Italian Agency for Development Cooperation
- Barbara Archetti – President of Vento di Terra
Moderator Maurizio Davolio - Presidente di AITR - Italian Association of Responsible Tourism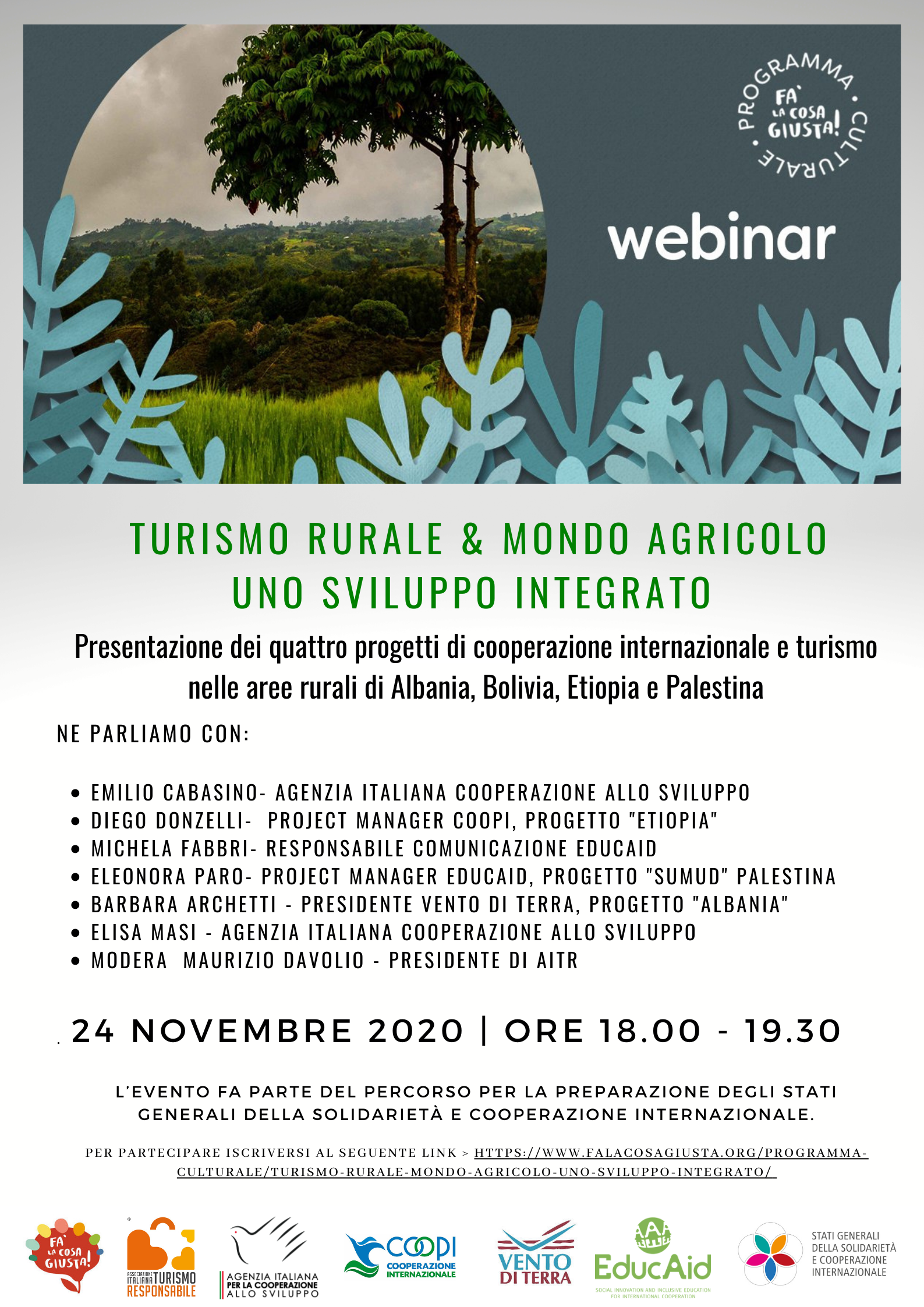 Link to attend the event: https://www.falacosagiusta.org/programma-culturale/turismo-rurale-mondo-agricolo-uno-sviluppo-integrato/
Facebook Event: https://www.facebook.com/events/666608260915294/