Mauritania
03-06-2021 | di COOPI
Mauritania. For the first time, women artisans receive support
Toufaela is 63 years old and she is the president of the women's cooperative Antiquité Jadis, a cooperative located in Nouakchott, which has been active for 30 years in the production and sale of handicrafts in wood and leather. She learned the technique of artisanal tanning of skins from her mother, who in turn learned the method from her grandmother.
When her mother died, in order not to lose the know-how passed down from generation to generation by her family, Toufaela decided to gather a group of women active in leather processing and she found the cooperative.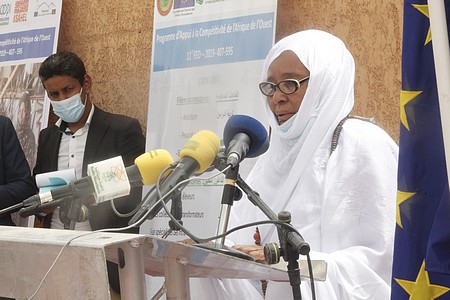 During the inauguration ceremony of a tanning centre on 06 May 2021, at the presence of the Minister of Culture, Handicrafts and Relations with Parliament and the Ambassador of the European Union, Toufaela gave a speech, broadcasted on local TV and radio, on the importance of women grouping together in cooperatives, to pool their efforts and learn from each other's skills.
"This is the first time that women have benefited from a support programme," she added, referring to the European Union-funded "West Africa Competitiveness Support Programme - Mauritania component (PACAO in French)" project, which aims to ensure a structural transformation of the local economy and related craft activities for the benefit of the population.
The programme, implemented by COOPI in partnership with the association SOS Sahel, supports nine women's cooperatives, including that of Toufaela. Thanks to PACAO, these women have already benefited from training in cooperative management and accounting, as well as from equipment to improve their products, such as high-performance sewing machines.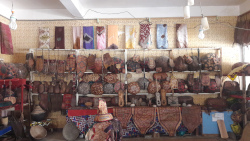 The programme in the coming months plans to mobilise Moroccan and Italian expertise to improve the quality of the leather and diversify the product range. It will also provide small-scale financing by the involvement of a microfinance institute, which will allow the sustainability of the cooperatives after the project.
In Mauritania, 31% of the population live below the poverty line and 16.6% below the extreme poverty line. Due to a weak and undiversified national market, the major challenges concern the leather crafts sector: nowadays, there is a lack of investment, difficulties in accessing credit by actors in the sector, as well as a lack of innovation and diversification of the product range.