Sudan
29-04-2021 | di COOPI
North Darfur. A new Dam will serve 10,000 households
About 60 kilometers North East of Mellit locality, in North Darfur State (Sudan), COOPI – Cooperazione Internazionale is about to complete the construction of Kindia Dam to help ease part of people's water access challenges, in the framework of the project "Strengthening Local Communities resilience to climate change in North Darfur", funded by the European Union.
This earth dam will harvest and hold up to 1,225,260 cubic meters of rainwater at full capacity. This amount of water will serve about 3,000 households and an estimated 10,000 livestock (cattle, sheep, goats and camels), in addition to supporting tree seedling production and expansion of community forests and irrigation activities around the dam.
Access to clean water for human and livestock consumption and for irrigation use remains a challenge in most parts of Sudan, especially in North Darfur. Low rainfall, high temperatures, depletion of vegetation, complex rock basement (i.e. metamorphic rock layers), increasing livestock and human population constitute some of the reasons for water scarcity in North Darfur.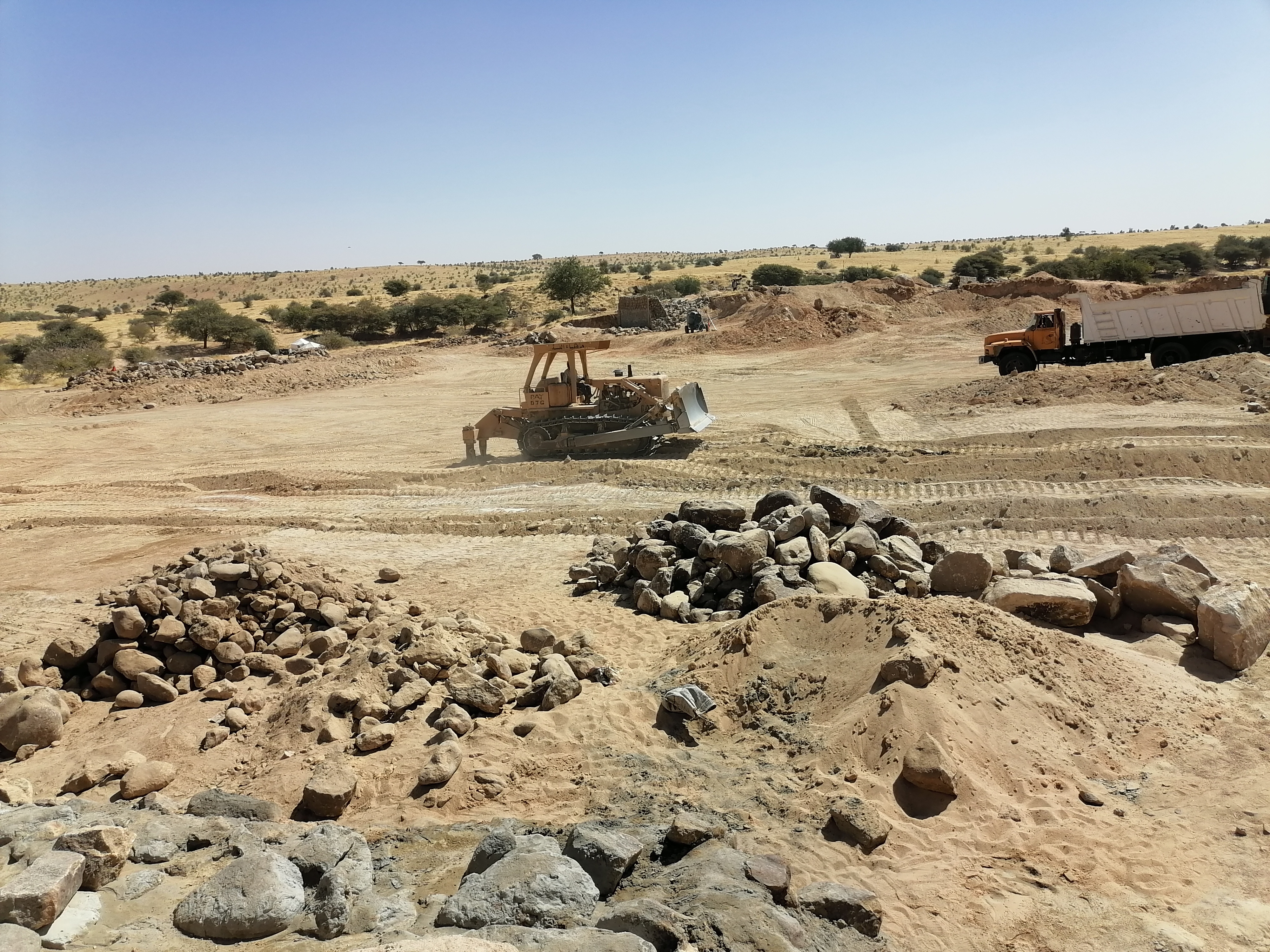 Work in progress for the construction of the dam
Dawah Nour, a member of local community natural resources management committee (CBNRM) nominated to represent the community in supervision of the dam's construction said that 'people generally lack water, particularly during the dry seasons when seasonal streams dry up, forcing people to go more than four hours away by donkey for example up to Mellit town, Abu Gantura, Koshare areas etc. And so, the construction of this dam will help bring water nearer to the people.'
Eng. Faisal Hassan, COOPI's Surveyor and Site Supervisor says that 'the construction of the dam is progressing as per the design and technical specifications. So far, the contractor finished excavation, construction of the spillway and the wings putting the dam at 50% overall completion state. And the contractor is on course to finalize all remaining works by May in time for the 2021 rain season'.
Since 2004, COOPI has been working in North Darfur, supporting the State and Rural Water Corporation in improving access to water for rural communities through drilling of boreholes, rehabilitation of water yards/mini water yards and construction of haffirs, earth dams etc.