Peru
17-06-2019 | di COOPI
Peru: Venezuelan migrant flow reaches its highest level
COOPI continues its commitment to support Venezuelan migrants - who are fleeing the crisis in their country - in Tumbes, in the northern border of Peru.
Here, on June 14th, 7,166 people entered the country, reaching the highest level of migrant flow, compared to a daily average of 1,500 people.
On this day, the Peruvian government set the deadline to cross the border without the need to submit a humanitarian visa – this is a document immigrants must present starting from June 15th, which, at present, is not easy to obtain, because it must be issued by Peruvian consulates in Colombia, Ecuador or Venezuela.
For this reason, until 23.59 on June 14th, the flow of Venezuelan immigrants increased greatly, reaching a record-breaking number of entries throughout the country - 9,172 people crossing the northern border of Tumbes.
Since November 2018 , COOPI has been working in this city on the border with Ecuador to tackle the Venezuelan crisis – it is the biggest migration crisis and internal mass exodus in recent Latin American history, recording more than 4 million Venezuelan refugees, 820,000 of whom are in Peru, which ranks as the second host country.
Peru, not being enough prepared to host such a huge number of migrants, has set as a new condition to enter the country - the humanitarian visa. However, on June 14th, given the great flow of people crossing the border of Tumbes and to limit risks, it has introduced some exceptions, namely the access of the most vulnerable people - elderly people over 65 years of age, family groups with dependent minors, unaccompanied minors, etc. This measure has allowed these groups, which in fact represent almost all of the migrants at the border, to enter Peru.
COOPI is taking action at the Binational Border Centre (CEBAF) in Tumbes and we are providing first assistance to migrants who have travelled on foot up to 3,500 km through Colombia and Ecuador.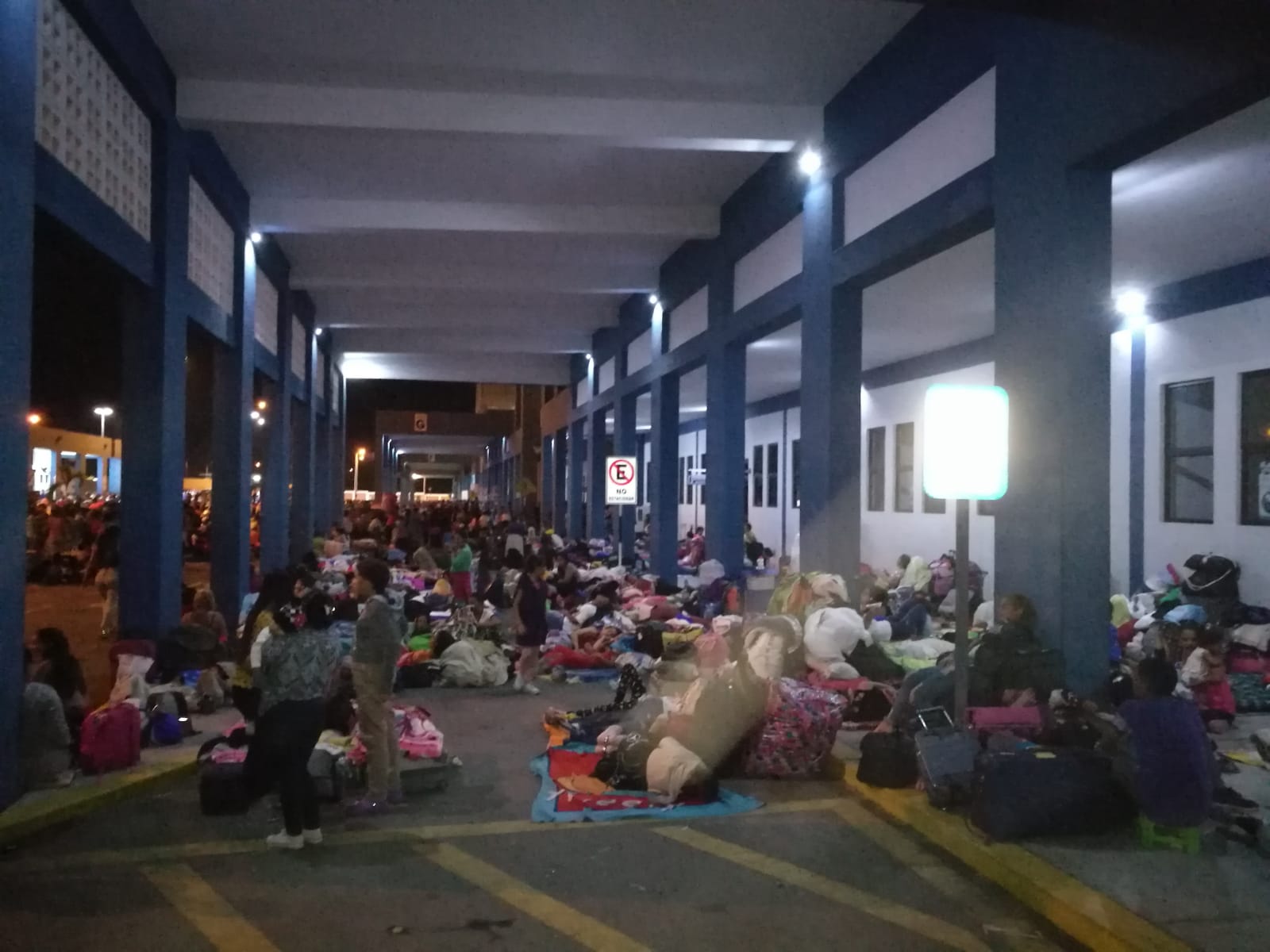 Groups of Venezuelan migrants resting outside the CEBAF in Tumbes
With us, people can rest after their long journey – they can access health services (toilets and showers) and receive hygiene products' kits (family kits) that include basic items to continue their journey to the destination they have chosen.
On June 14th, the migration flow reached its highest level since the beginning of the crisis and COOPI supported Venezuelan families by letting 659 people, including 395 minors and 273 women, use showers and toilets (in operation 24 hours a day). It also distributed 95 family hygiene kits to 196 minors and 91 women.
To tackle the emergency, on June 15th, COOPI, in collaboration with UNICEF, developed partial kit for work initiatives, by distributing hygiene items to Venezuelan families willing to help cleaning CEBAF installations. Many Venezuelan migrants joined the activities, which were crucial in preventing the reception facilities of the Peruvian government from collapsing.
COOPI will continue to provide assistance to Venezuelan families at the border - not only to tackle emergency situations, by responding to the uninterrupted migrant flow, but also to promote adequate social, economic and cultural integration of Venezuelan families who wish for a better life in the country, in collaboration with the Peruvian government.