Senegal
16-09-2021 | di COOPI
Senegal. Mental health care for returning migrants
Irregular migration has a profound impact on the mental health of returnees, men and women who have been physically abused, assaulted or mistreated during their transit. In Senegal, particularly in the region of Tambacounda, COOPI – Cooperazione Internazionale takes in charge several returnees in psychological distress within the framework of the project "Vivre et réussir chez moi - Local development and territorialisation of migration policies in Senegal" ,as a part of consortium with the NGO VIS and thanks Italian Agency for Development Cooperation (AICS) fund.
Listen to Mamedou Moustapha Mar Seck, COOPI social operator, talking about the role of psychological support, in the video presentation of the project (minute 8:30) https://youtu.be/esecyYQi4Cs
COOPI goes into immersion through periodic missions with awareness sessions and training of families and communities about their role and responsibility in psychosocial care. Prior to this, missions to profile returning migrants and their mental health problems have already been carried out in order to analyse the health difficulties and the responses that need to be provided.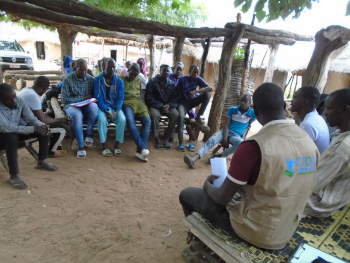 The most vulnerable, those in an irregular situation, may be forced to deal with poor housing conditions or overcrowding, as well as precarious, informal or dangerous work situations (victims of trafficking, exploitation, xenophobia...). The problem of mental health is emphasised in this period of pandemic Covid 19 where the stress of isolation, loss of employment, discrimination have undeniably an impact on the mental health of the most vulnerable.
COOPI advocates governments' efforts to include returning migrants, to ensure an equitable mental health response, through synergy of action of all protective services.
"Vivre et réussir chez moi - Local development and territorialisation of migration policies in Senegal" funded by the Italian Agency for Development Cooperation (AICS) is carried out by COOPI in partnership with VIS (leading agency), Fondazione Museke e don Bosco 2000.
The general objective of the project is to contribute to the expansion of opportunities for vulnerable groups in two Senegalese regions with a high migration impact (Kaolack and Tambacounda), in order to improve their living conditions and regulate the management of migration flows, thus preventing human rights violations caused by emigration.
The specific objective is to promote local development in the regions of Kaolack and Tambacounda as a key to the effective implementation of circular and territorialized migration policies, inspired by the respect of human rights and the implementation of a strengthened network of Senegalese public and private operators, Italians and diaspora's actors.
COOPI has been involved in the sector of migration through development projects in West Africa since 2000. These interventions are focused on supporting initiatives of the African diaspora in Italy to promote circular migration, local development and youth employment in areas heavily affected by migration. The organisation currently has a regional office in Dakar and implements several projects on migration covering Senegal, Gambia, Mali and Niger.