Somalia
02-01-2019 | di COOPI
Somalia: mobilizing communities against famine
36-year-old Farah Cabdi Raage is the household head and a father of 8 children (4 boys & 4 girls). His family consists of 12 members, including his elderly mother and young brother who live with him. Farah is a resident of Buqdharkayn village, located in Aynabo District, Somalia. Due to the severe drought that hit Aynabo last year, his livelihood sources were wiped out and his family had to face difficult times.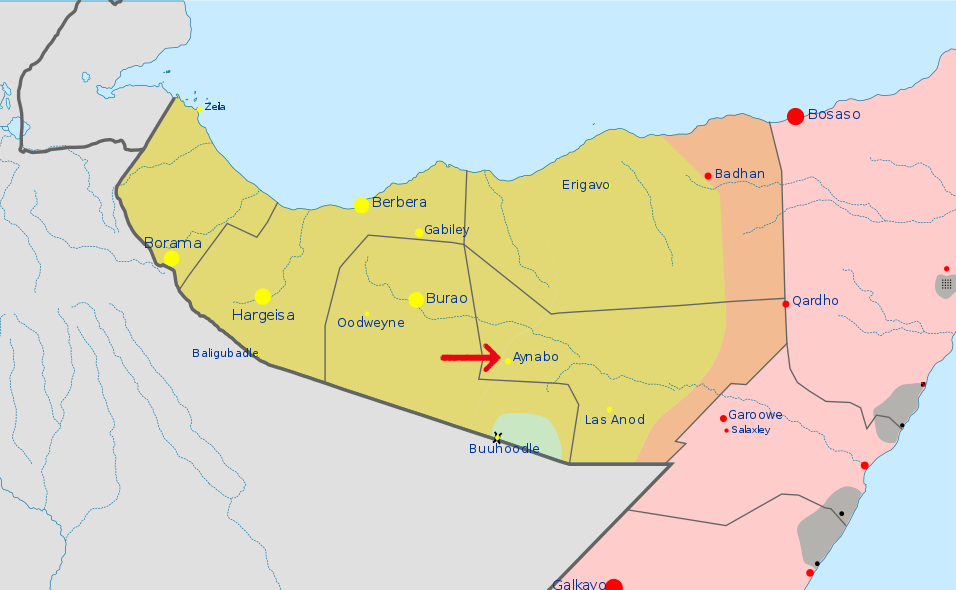 Map of Somaliland. The red arrow signals Aynabo District.
In June 2018, through funding from AICS (the Italian Agency for Cooperation Development), COOPI started implementing the "Emergency intervention in favour of displaced local populations affected by drought in Somalia ". Its goal is to save lives and to reduce the risk of famine in Somaliland through theprovision of timely and adequate basic services and protection of livelihoods for populations severely affected by disasters. The project is implemented in Aynabo and Odweyne districts, in the Sool and Togdheer regions of Somaliland.
The COOPI field team visited the rural location of Buqdharkayn during the community mobilization process. While conducting the village mapping, scattered bodies of dead animals were found decaying in the open grounds. In anticipation of Deyr (one of the two rainy seasons), that presence could have resulted in an outbreak of diseases - especially for children, who tend to play in the very stagnant waters that streamed through the remains.
COOPI mobilized the beneficiaries in undertaking the construction and rehabilitation of community assets through a Cash for Work (CFW) program. The community in Buqdharkayn village proposed the construction of new garbage pits in 2 rounds.
Due to the vulnerability of Farah's family, community leaders selected him to be enrolled in the project and participate in the construction of the pits. Farah worked for 12 days in round one to complete the stipulated measurements set in the work norms and received $60 via his mobile phone. This income made it possible to support his family and to access basic needs:
«I am very grateful to COOPI and AICS for the support received from this project. The money I earned has helped me and my family to consume 3 meals every day and repay some of my debts. The garbage pit we constructed in our village is very useful and will allow the whole community to dispose waste properly in the designated area, avoiding possible disease outbreaks and preventing the growth of potential disease vectors. I feel satisfied», said Farah.