Somalia
15-05-2020 | di COOPI
Somalia. This is how Quresha became an independent woman
Quresha Adan Dahir, aged 37 and mother of 7 children (5 males and 2 females), resides in Oda village, Belet Hawa District, Somalia. She is one of the beneficiaries of the project "Enhancing resilience in Somalia" financed by the Australia Department for Foreign Assistance and Trade and implemented by COOPI through the Somali Resilience Programme (SomReP).
Before the intervention, she was a small-scale trader selling shared meat supplies on a table on the main road of the village. Due to a lack of a reliable market to sell meat, sales were low, and some of the meat usually remained unsold. Her monthly income was around $30, and therefore, not enough to cater for her household needs.
Her husband, who also supported the family through casual labour, passed away in 2015. Thus, she became the sole head of the household. This further compounded her misery, forcing her to borrow loans to fulfill her household's needs. Furthermore, her children were forced to drop out of school due to unaffordability of fees.
She recalls: "Those were difficult times. I had to frequently borrow loans to provide for the family. Occasionally I had altercations with some of my debtors over previous loans I borrowed and did not repay. Single-handedly providing for my 7 children was burdensome. During that time, I was pushed to a point of destitution".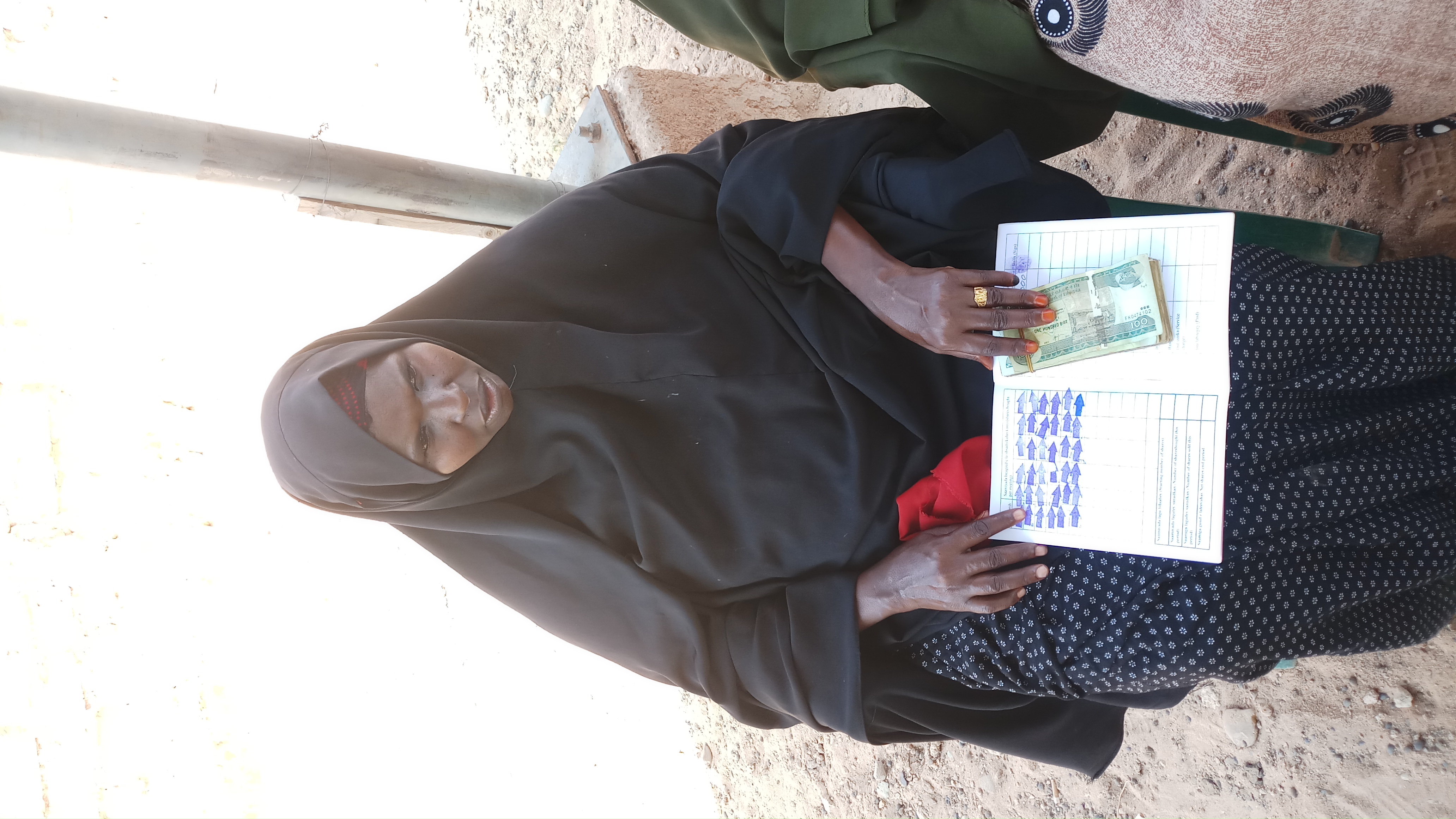 Quersha at VSLA share out
In February 2018, Quresha was selected by COOPI through a community-based targeting to benefit from the cash-for-work (CFW) intervention with the aim of improving the purchasing power of households such as hers. In the same month, COOPI introduced the Village Savings and Loans Associations (VSLA), as well. She joined a VSLA group and benefitted from VSLA and Business Development Skills (BDS) trainings. Her group was further provided with a VSLA kit for safekeeping and the documentation of their savings.
She says: "I received $5 for 19 days from CFW. I used part of it to pay my debts, and to provide food for my family. Taking up the VSLA and BDS trainings improved my knowledge on the importance of savings and loans, and how to use them to invest in small business opportunities with the goal of boosting household income. I saved $20 of the CFW money in the VSLA during the first month, which gave me the possibility to ask for loans."
She was able to borrow two $40 loans from the VSLA group, which enabled her to purchase two goats for slaughter and sale in the market. Each of the goats' meat generated an income of $60. Since then, she has paid back all the loans borrowed and has mostly been using the income generated to purchase the goats.
"The $40 loans provided more capital to expand my business. From sharing the meat supply, I am now slaughtering and selling the meat of at least two goats each day, which is bringing in a daily income of $10-$20 depending on the sales. After the last share-out, I got $105, which enabled me to build a small iron-sheet shop. This sustained my business as I currently have a place to operate from. To avoid spoilages, the BDS training taught me to organize my meat supplies based on anticipated demand. The meat has also not been going bad since it's less exposed to the sun and dust. The income helped me settle my debts in the village, I returned my children to school and continue to provide adequate food for them" she says.
She adds: "Desperation and loans borrowing pushed me to the brink of being viewed as a beggar. It was humiliating being a burden, and the pressure to repay loans borrowed was unbearable. The cash released me and returned me to independence. I am looking forward to increase sales during the holy month of Ramadhan coming soon, and this is where I expect to make new long-term customers for my business."
"To COOPI, the donor, DFAT and SOMREP, I am forever grateful" she concludes.
Photo credits: Marco Palombi
The main picture does not represent the story's main character.