Sudan
29-09-2020 | di COOPI
Sudan, COOPI responds to the flood emergency in Mayo
In the wake of the recent disasters caused by the floods in Sudan, and after the recent distributions in the 5 most affected villages of Jebel Awliya in Khartoum State, on 21 and 22 September 2020, COOPI distributed 550 NFI (Not Food Items) kits to the most affected families in Mayo Mandela area. Located on the southern outskirts of Khartoum, Mayo is a camp of IDPs refugees and asylum seekers, living in very precarious conditions of vulnerabilities and poverty. The area is particularly vulnerable to periodic flooding that affects both the sanitary conditions and access to services.
The emergency distribution, composed by Not Food Items (1 jerry can; 1 tarpaulin; 2 bed mats; 2 mosquito nets), was coordinated at state level by the Shelter/NFI cluster and was made possible thanks to funding from UNHCR and the synergistic effort of COOPI, Humanitarian Aid Commission (HAC) Khartoum and Local Committees.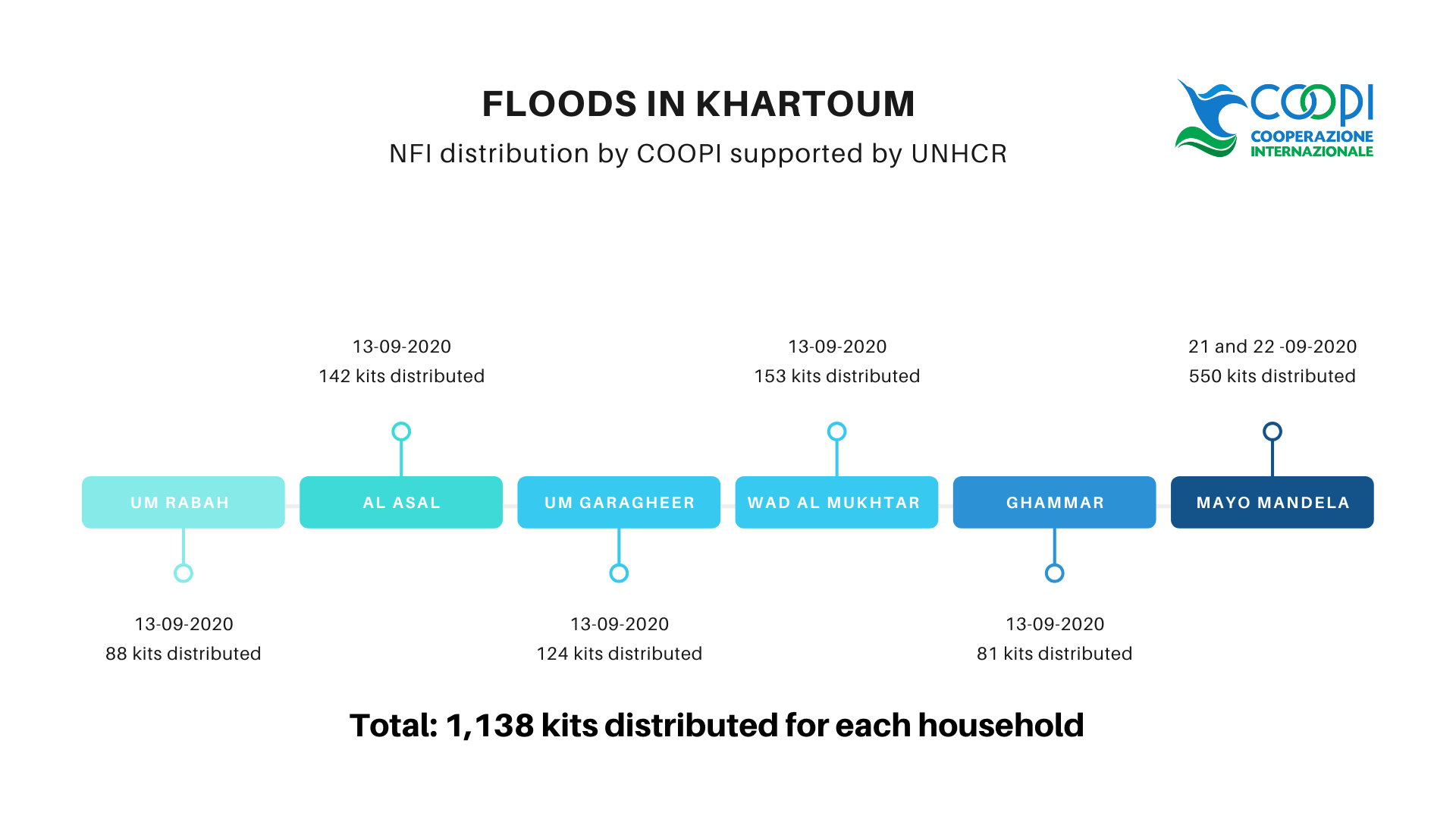 Local communities have been immediately involved in the identification of displaced families residing in the open area of Mayo Mandela and targeting the most vulnerable social groups, primarily: disaster-affected refugees, women at risk single parent, pregnant and lactating women, elderly and people with disabilities.
An important relation is being woven with the representatives of Communities, Local Authorities and HAC Khartoum. They are proactively complementing COOPI's efforts and commitment in enhancing community resources. The aim of the long- term intervention in the area is mainly focusing on building up mechanisms of community-managed Disaster Risk Reduction in Mayo and support the community itself to develop an action plan contributing to reduction of vulnerabilities.
While the distribution of first emergency kits continue, further assessments have been planned by COOPI in the area to better identify unmet needs and gaps at household level as well as to assess the damages of the floods to the water points and to latrines and toilet facilities. This intervention aims to prevent disease outbreak which would severely affect the targeted communities.