Sierra Leone
01-07-2020 | di COOPI
Sierra Leone. Face2Hearts vloggers visit our Cashew project
In March 2020 the European Union Faces2Hearts vloggers, Kirstie Hall and Esteban Novillo, visited the project "Fostering Smallholder Agriculture in Sierra Leone" implemented by COOPI, WHH and InterAide since 2016 and funded by the European Union. Vloggers visited Portloko district to see the Cashew Value Chain Interventions and to visit the farms during the harvest season at Bathyllah village, Magbeni section and Bake Loko chiefdom.
During their visit, vloggers had the chance to meet COOPI staff and beneficiaries. Osman Bangura, COOPI Project Officer for Portloko district is an experienced technical professional of Cashew Sector who attended a Cashew Sector Related Master Training Program in Ghana. He has been working together with COOPI since the very start of the "ProAct 2015" and today he is facilitating the stakeholders for all the COOPI interventions on the cashew value chain in Sierra Leone.
Moses A.L. Sapatteh is an experienced cashew farmer and president of the Taskeleneh Cashew Farmers' association, one of the 66 Cashew farmer associations in Portloko district supported by COOPI. The Cashew farm is a 6 years old farm having high productive polyclonal varieties of cashew plant planted in 7,5 hectares of land. This year, M. Sapatteh harvested around 2 MT of raw cashew nuts worth approximately 10,000,000 SLL (USD 1,000) and around 7 tons of Cashew apples. Moreover, M. Sapatteh together with COOPI integrated five beehives to increase the production of cashew nuts.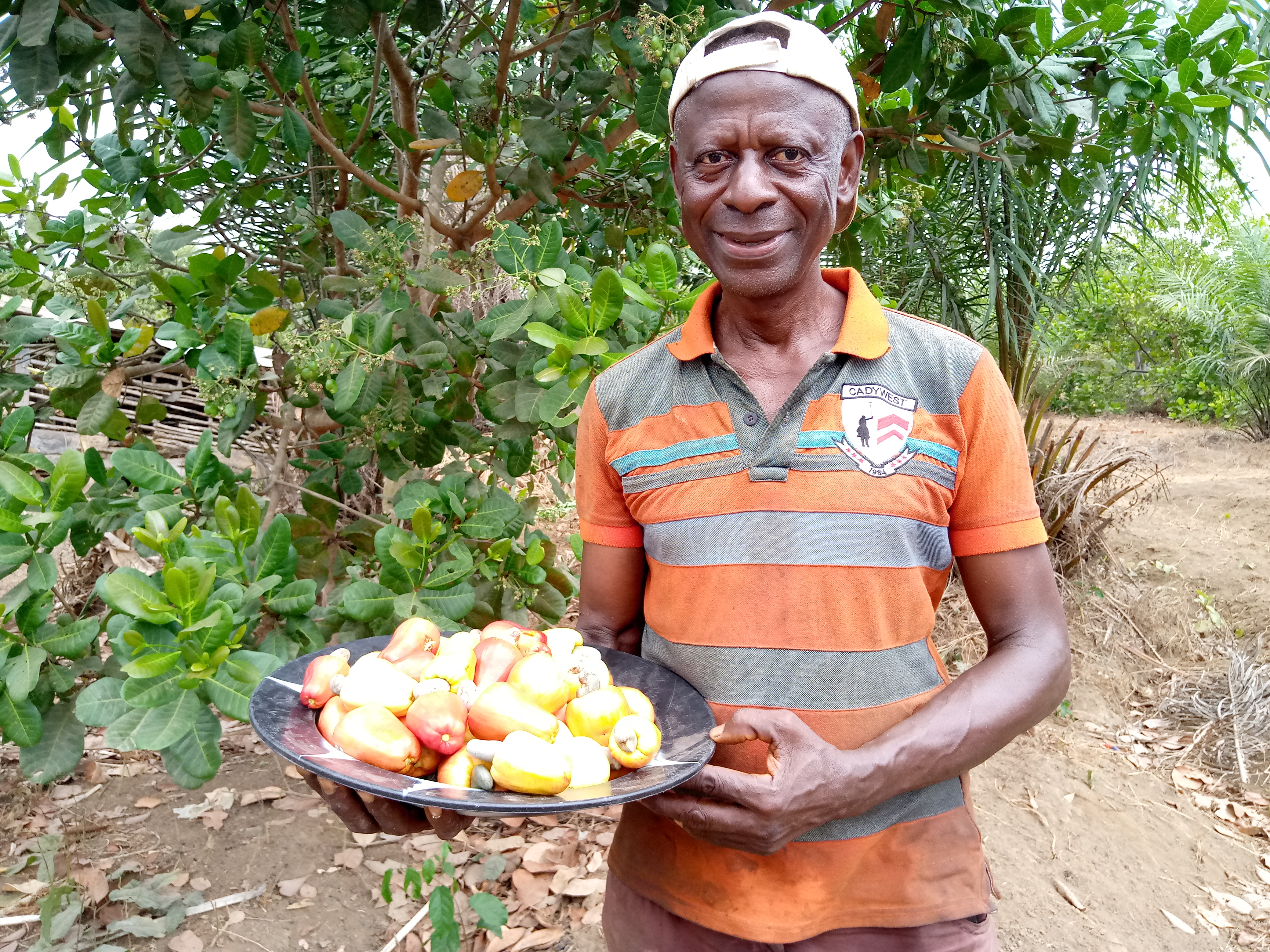 Mr. Spateh
Portloko District is the 2nd largest district in Sierra Leone in terms of area and population. Cashew plantation represents an important resource for communities. Its drought tolerance and ability to grow better in tropical environment made it very suitable for the local ecology of Northern districts of Sierra Leone. Indeed, cashew plantations are mitigating the climate situation and convincing to have cashew based agro-forestry in the deforested land. In 2020, 2,000 farmers, thanks to the support provided by COOPI, harvested 400 MT of cashew nuts.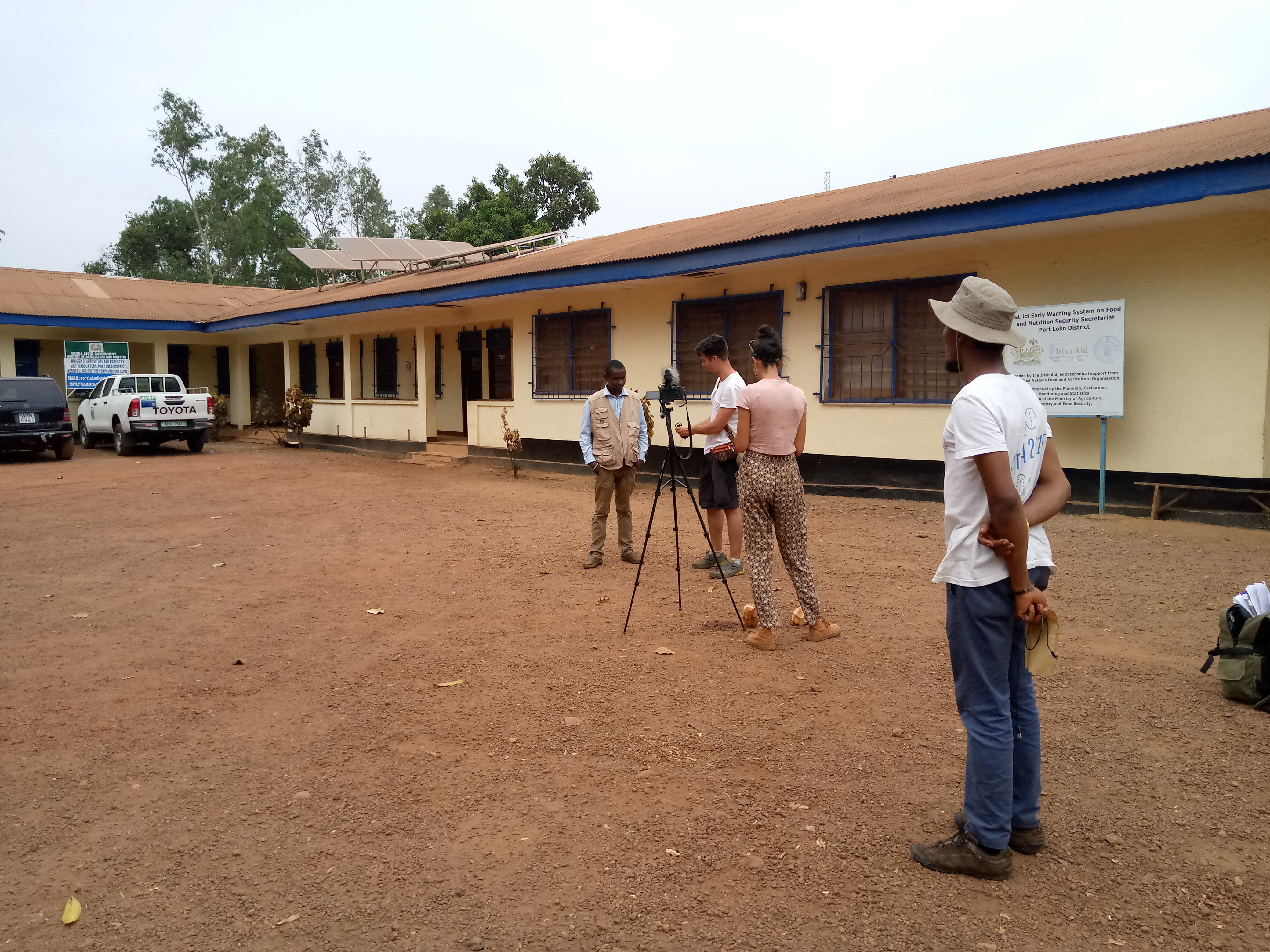 Faces2Hearts vloggers, Kirstie Hall and Esteban Novillo, interview Osman Bangura, COOPI Project Officer
Today, cashew is a popular crop and all farmers want to start cashew's plantation. During the last three years COOPI distributed 900,000 seedlings to plant in 9,000 hectares of land. Cashew plantation is increasing gradually. A higher production means higher export potential. In 2018, Sierra Leone exported for the first time 62,5 MT of raw cashew nut to Europe. COOPI is prioritizing the capacity building of the local processor with uplift the processing from manual to mechanized level and organizing the smooth market linkage among the value chain actors. Up to today, around 40,000 hectares of cashew plantation were established in the whole country. Finally, COOPI is already working with two private partners to get a group certification for 3,000 cashew farmers on organic cashew production to ensure them a premium price.