Syria
06-03-2023 | di COOPI
Syria. A month after the earthquake, COOPI continues to respond to the emergency, but needs remain high
One month after the Feb. 6 earthquake that violently struck Syria and Turkey, COOPI-Cooperazione Internazionale continues to increase its response on the ground. In the coming days, it will reach a total of more than 15,000 people, with a focus on the most vulnerable groups such as children, women, the elderly and people with disabilities.
By March 9, in fact, COOPI will help an increase of 6,300 beneficiaries (additionally to the 4,500 already reached in the days immediately following the earthquake with blankets, hygiene kits and lamps) by distributing as many hygiene kits. In addition, for about a month, 2,850 people will receive a food package every five days. As well as the distributions, COOPI will provide first psychological aid to about 2,000 displaced people whom our field workers have already reached over the past month.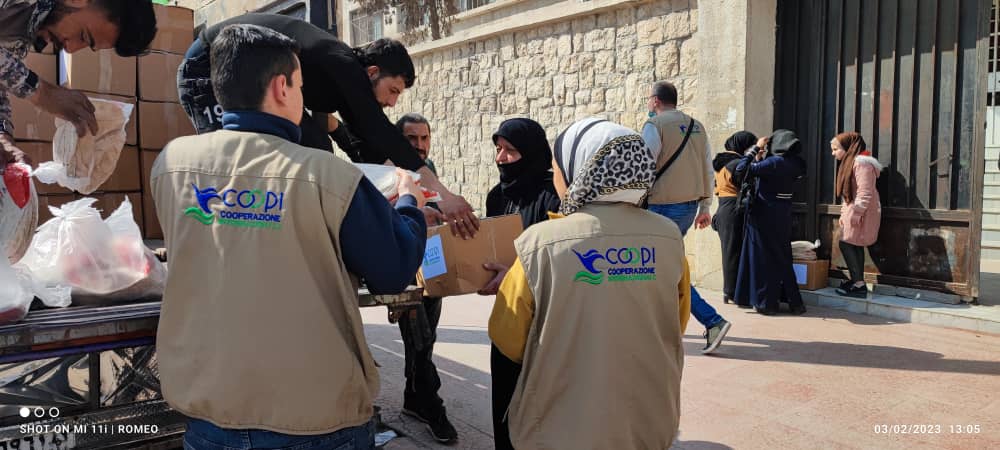 The earthquake, which has continued to hold the territory in a grip with last month's tremors, has left entire populations on their knees. The estimated numbers of human damages are high: the United Nations Humanitarian Coordination (OCHA, March 2023) speaks of 8.8 million people affected by the quake, 105,000 households displaced, about 12,000 injured and 6,000 killed. The need therefore remains extremely vast.
As Matteo Crosetti, COOPI's Regional Coordinator in the Middle East, also points out:?
"It is a crisis within a crisis, in an area already devastated by now 13 years of crisis that persists even today with no immediate end in sight. Even before the earthquake, there were 12.7 million people in need and 4.9 million in extreme or catastrophic needs, and Syria had the highest number of displaced people in the world."
To help the people of Aleppo, you can donate to COOPI with the cause "Earthquake Emergency" like this:
by bank transfer (Banca Popolare Etica - IBAN IT89A0501801600000011023694)
with postal bulletin (c/c 990200 made out to COOPI)
COOPI has been active with its humanitarian action in Syria since mid-2016, mainly engaged in the areas of Food Security and Protection in the rural areas of Damascus and Aleppo to which is added the recent emergency response to the earthquake.