Malawi
15-02-2019 | di COOPI
Thumbs up for our resilience project in Malawi
In 2017, the "Strengthening the resilience of vulnerable communities in Salima and Mangochi districts" project, funded by AICS, the Italian Agency for Development Cooperation, kicked off.
"Today, almost two years later, we have made considerable progress, by arousing interest and directly involving the beneficiaries of the project in activities related to irrigated agriculture and fish farming", explains COOPI project leader, Camilla Benozzi. "Men and women, together, have become aware of their potential and capabilities and are now able to provide for their future."
Those results have also been corroborated by the inspection carried out by the Monitoring Team Leader of the Mangochi district, Kondwani Magombo, in December 2018. The outcome? Thumbs up for the three irrigation schemes in the Katuli area, which has become one of COOPI main activity areas in Malawi, together with Makanjira, Nankumba and Chilipa.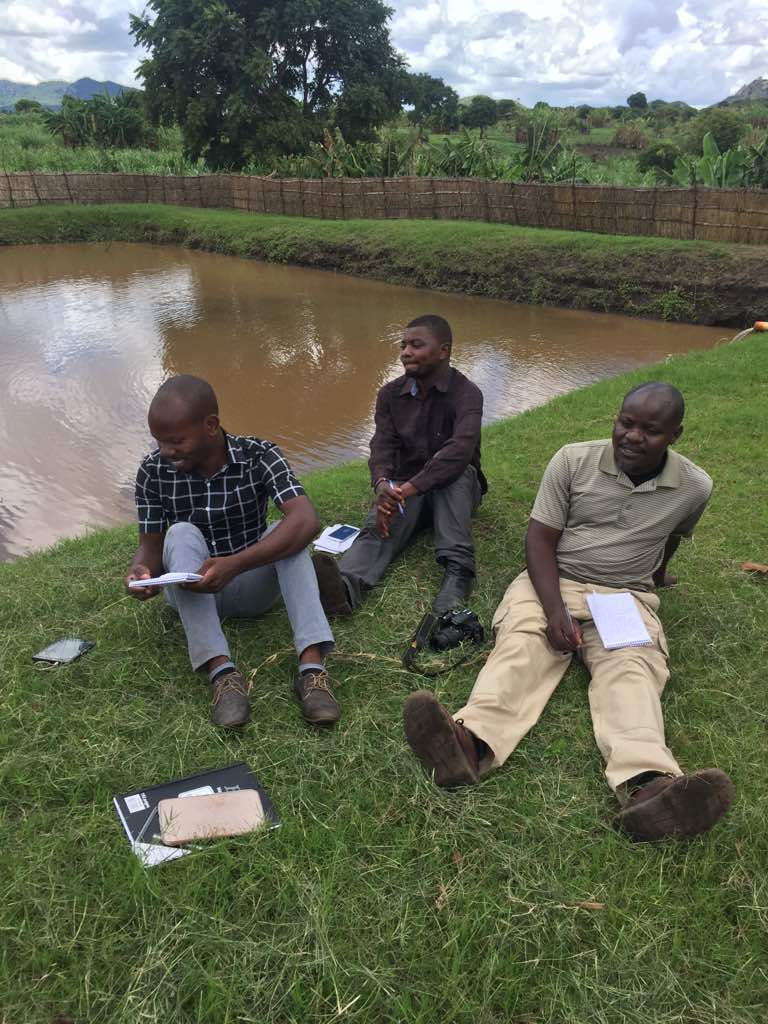 Monitoring Team Leader of the Mangochi district, Kondwani Magombo. Photo credits: Ben Namanya
Mr Magombo not only monitored the irrigation schemes' activities but also acknowledge our progress to strengthen capacity building for nutrition.
50 beneficiaries built several fish ponds, intended for the farming of some 6,500 fingerlings. This activity contributed to increase the villages' economy, since the people involved were paid on a cash for work basis.
Among the other operations carried out and checked by the monitoring team leader, we can mention:
the rehabilitation of old canals built by previous organizations;
the construction of new canals for irrigation schemes;
the planning of educational activities, such as training sessions, dealing with fish feeding, nutrition, maternal health and HIV/AIDS management.
"And it is precisely on training that we are continuing to focus our project activities," continues Ms Benozzi. "In this regard, we organised learning tours to Bunda college, in Lilongwe and to Ntcheu, where beneficiaries were trained on how to use and manage the ponds properly." The meetings allowed them to become more aware of fish farming benefits and improve the techniques they had already learnt.
Investing in training allowed farmers to be taught agricultural best practices, to grow sustainable and profitable crops and to encourage afforestation activities, by planting indigenous fruit trees and trees.
"Now, if I really have to mention one issue that arose during the monitoring session, it would be the fall armyworm invasion", says Ms Benozzi. "Those parasites could affect crops and compromise the work done so far. That is why we are currently focusing on distributing suitable pesticides that can limit damage, as well as promoting a sustainable and proper use of those products."
The newly introduced agricultural techniques have allowed the inhabitants to become food secure, earn cash from green maize sales and become passionate about fish farming. How long do we have to wait to see the first outcomes? Until mid February, when the fingerlings' harvesting will begin.